Las Vegas — Five years of frustration and a decade of postseason futility are over for BYU.
The No. 19 Cougars completed their best season since 2001 by beating Oregon, 38-8, Thursday night in the Las Vegas Bowl, ending the year with 10 straight victories and their first bowl win since the 1996 season.
John Beck passed for 375 yards and two touchdowns, and Curtis Brown ran for 120 yards and two TDs. Jonny Harline, voted MVP after the game, caught nine passes for 181 yards, and Justin Robinson intercepted two passes for BYU (11-2), which shut out the Ducks (7-6) through three quarters.
"I couldn't think of a more fitting ending," BYU coach Bronco Mendenhall said.
Oregon lost its fourth in a row and was never close after BYU scored 17 points in the second quarter. The Ducks had just 120 yards of offense through three quarters and didn't score until Brian Paysinger caught a 47-yard pass from Dennis Dixon with 10:27 left in the game. The Ducks added a two-point conversion, but that still only cut the lead to 31-8.
If Oregon was thinking about a miracle comeback, it didn't last long.
BYU recovered the ensuing onside kick and scored 1:13 later on a 17-yard pass from Beck to Manase Tonga. Beck also ran for a 13-yard score that put BYU ahead 31-0 early in the fourth quarter.
Cougars fans who packed Sam Boyd Stadium with a record crowd of 44,615 stormed the field after the final play in celebration of the BYU blowout.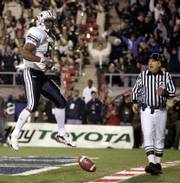 BYU hadn't had a winning season since going 12-2 in 2001. The Cougars had lost four straight bowl games, since beating Kansas State 19-15 in the Cotton Bowl on Jan. 1, 1997.
Oregon tried rotating quarterbacks again with Brady Leaf making his second career start and the quicker Dixon coming in to give the BYU defense a different look. It didn't work.
The Ducks allowed two sacks on their first series and Leaf and Dixon combined to throw for 166 yards. Both threw an interception and Oregon finished with 260 yards of offense and lost its fourth straight bowl game.
"I'm disappointed. I'm shocked," Oregon coach Mike Bellotti said. "We didn't play well. We got outplayed, outcoached."
The largest crowd in stadium history, breaking the previous high of 42,075 fans for UNLV's game against Wisconsin in 2002, was nearly all wearing BYU dark blue.
Copyright 2018 The Associated Press. All rights reserved. This material may not be published, broadcast, rewritten or redistributed. We strive to uphold our values for every story published.