Oklahoma City — Mario Boggan kept expecting to get tired. He never did.
Oklahoma State's star forward scored a career-high 30 points and had a crucial putback in the final minute to help lift No. 15 Cowboys to a 95-89 double-overtime victory over seventh-ranked Pittsburgh on Thursday night.
"I thought I was going to be dead to the world, but as it kept going, I just kept wanting to play. I just got more energy and my adrenaline was just rushing more," Boggan said.
Boggan had enough left in his tank to get to the line for the go-ahead free throws with 1:42 left and then to grab Byron Eaton's miss and put it back with his right hand for a three-point lead.
"This is great. I dream about it. I used to dream of the day I was there," Boggan said. "I probably was more pumped and energized. I thought I was going to be dead tired, but as it kept going I kept on feeling like I had more energy."
Mike Cook hit two free throws with 25.3 seconds left to pull Pitt (10-2) within a point, but the Panthers were forced to foul with the shot clock off. Levance Fields was called for a flagrant foul for grabbing Eaton's neck with 21.6 seconds left.
Eaton hit both his free throws and JamesOn Curry added two more for a five-point lead, and the Cowboys exchanged high-fives before huddling with 16.7 seconds remaining. Ronald Ramon's jumper in the lane was off-target, and Fields discarded his headband as Curry stepped to the foul line to hit two more shots.
Boggan finished 9-for-19 with nine rebounds, but had to leave after injuring his left hand on his foul of Cook.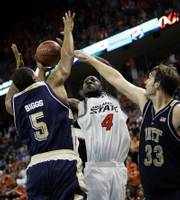 "I was surprised by all of them, but really surprised by him that he never wore down," Cowboys coach Sean Sutton said. "He just kept saying, 'Get me the ball. Get me the ball.' He had an unbelievable performance - one of the best efforts we've had from one of our players in quite a while."
Curry finished with 21 points for Oklahoma State (12-1), which also got 12 apiece from Terrel Harris and Kenny Cooper and 10 from Eaton. Dove had 12 rebounds.
Aaron Gray, the Big East preseason player of the year, had 24 points and 10 rebounds to lead five Pitt players who scored in double figures. Antonio Graves added 17, Cook and Fields each had 15 and reserve Sam Young scored 10.
"We figured a game like that would come down to loose balls and rebounds," Pitt coach Jamie Dixon said. "I think the bottom line is the rebounds."
Oklahoma State had a 47-35 edge on the boards, and none was bigger than the one by Boggan. The Cowboys can only hope they won't be without their top scorer and rebounder. Boggan said he expected to have X-rays on his hand but did not think there was a break. He said the injury seemed to be in the area near his thumb.
Boggan and Sutton both said they didn't expect him to miss any games.
Oklahoma 58, Tulsa 48
Oklahoma City - Michael Neal and Austin Johnson each scored 11 points and Oklahoma held off a late charge by Tulsa at the All-College Classic. Neal finished an 8-1 run with a three-pointer to make it 51-40 and give the Sooners enough room to hold off Tulsa's comeback try.
Copyright 2018 The Associated Press. All rights reserved. This material may not be published, broadcast, rewritten or redistributed. We strive to uphold our values for every story published.