Jenna Brantley had one day to practice her shooting stroke in preparation for Thursday's crosstown tilt against Lawrence High.
The Free State senior guard hadn't practiced in two weeks because of a left ankle injury.
But from her play on the court, it was difficult to notice anything ever happened.
Brantley had a game-high 15 points to lead Free State to a 59-36 victory over the Lions at Free State.
"I didn't know how long I would actually last," Brantley said. "I didn't think I'd play as much as I did. Just with the adrenaline rush, the crowd really helped."
Brantley entered the game with 5:22 remaining in the first quarter. She played for the majority of the game and received occasional breathers. After the game, she had her left ankle immediately wrapped in ice.
"I'm probably about 75 (percent) at the most defensively," Brantley said. "I can't cut as fast as I usually can."
Despite Brantley not being 100 percent, her senior presence on the floor was pivotal.
"I really wanted to let other people score, because I wasn't sure how good I'd be shooting," Brantley said. "I wanted to get a lot of assists, but I just happened to shoot well tonight."
Brantley actually dished out five assists to go along with her four rebounds. She displayed a sense of comfort and knowledge on the court. For instance, Brantley found junior forward Sarah Craft under the basket no more than 30 seconds after entering the game.
Brantley helped senior guard Lauren Kimball run the point numerous times Thursday. Brantley sat out last week's game against Topeka. In that game, when Kimball was on the floor, she exclusively ran the point.
"She's like my wingman," Kimball said of Brantley. "We create things for each other. It was a lot easier getting her on the floor. It created the flow of the game for us."
Photo Gallery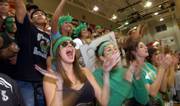 LHS vs. FSHS Girls
Free State (5-1) committed eight turnovers in the first half. With Brantley and Kimball handling the ball for the majority of the second half, the Firebirds only turned the ball over twice.
"We really didn't know what to expect from her tonight," Free State coach Bryan Duncan said of Brantley. "As long as she was playing well and being effective, we were going to keep her on the floor. She was cleared by the doctor and our trainer to play, so as long as she could handle the pain, she was going to be fine."
Lawrence High (2-3) actually jumped out to a 13-8 lead to end the first quarter, and led 22-21 at halftime.
The second half saw completely different results.
Sophomore standout guard Taylor Bird, who scored six points in the first half, only scored one in the second. She also picked up four second-half fouls and fouled out. Junior guard Danielle Bird hit a three-pointer in the first half, but finished the game with only four points.
"The first half was like clockwork," said Lawrence High coach Kristin Mallory, who was battling the intestinal flu for the past 24 hours. "The second half, we couldn't get anything to drop. We became stagnant and probably got a little tired, too."
The Firebirds simply blew the game open in the second half. They held the Lions to four points in the third quarter, then outscored them, 24-10, to close the game.
"We weren't overconfident, but we let them control the pace of the game in the second half," LHS senior guard Katelyn Hobbs said. "We just got frustrated offensively."
Kimball was a walking nightmare defensively for Lawrence High. The scrappy guard came up with five steals to go along with her 10 points, six rebounds and three assists.
Earlier in the week, Duncan stressed defense on the Bird sisters as one of the top priorities for winning the game.
"We just told them that they really had to step out on the shooters," Duncan said. "The first half, we were a little bit sluggish, but the second half, we got back to what we were doing all week."
Senior forward Kelsey Harrison was also crucial for Free State, contributing 13 points, five rebounds and three steals.
Free State won't play again until Jan. 5, when it will travel to Olathe North.
Lawrence High also will play Jan. 5 when it travels to Olathe Northwest.
Copyright 2018 The Lawrence Journal-World. All rights reserved. This material may not be published, broadcast, rewritten or redistributed. We strive to uphold our values for every story published.