Sasha Kaun wore a brace on his right knee, heavy tape on his left ankle and a new accessory - a bandage wrap on his lower left leg - during a postgame interview session with reporters on Tuesday night in Allen Fieldhouse.
"A little bit of everything," Kaun, Kansas University's junior center, said with a smile, referring to what's been ailing him. "I'm going to try to stay healthy," he quickly added of a modest, yet ultra important goal, for the remainder of the season.
Kaun - who missed KU's two exhibition games and first three regular-season contests because of a partially torn patellar tendon as well as a couple practices late last week because of a sprained ankle - merely scraped his leg diving for a loose ball in the Jayhawks' 94-43 rout of Winston-Salem State.
Finally healthy (relatively speaking), Kaun celebrated his return to the starting lineup with an 11-point, six rebound outing against the 1-14 Rams.
"Sasha did fine," KU coach Bill Self said, assessing the 18 minutes Kaun worked while making his first start since last year's NCAA Tournament loss to Bradley.
"The thing about Sasha that is great is he is a presence on defense. He is a good low-post defender. We don't have to trap the post as much when he is in the game. The negative thing is sometimes he doesn't react to balls the way we wished he would. I still think it'll come."
Self is a firm believer Kaun can be more than a role player for the Jayhawks, who will take a 9-2 record and No. 11 national ranking into Saturday's 1 p.m. home battle against 7-2 Boston College, which received 42 points in the AP poll as the 30th team listed.
"He got 25 (points) and 16 (rebounds) in a college game," Self said of last year's opener against Idaho State. "I've got to believe he'll get his confidence and timing where he's attacking better. But he did fine."
Self said he was not sure whether he'd continue to start Kaun and bring Darrell Arthur off the bench or vice versa.
"I like Darrell when he's out there a lot," Self said of Arthur, who had 13 points, five rebounds and four blocks in 19 minutes versus WSSU. "He needs to be playing closer to 30 minutes than 20. Starting Sasha takes some pressure off him to potentially keep him out of foul problems early ... potentially."
Photo Gallery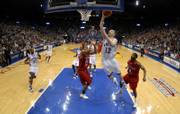 KU vs. Winston-Salem State
Kaun, who averages 4.6 points and 2.6 boards per game, just wants to contribute.
"I mean it doesn't really matter than much to me, coming off the bench or starting," said Kaun, who opened 29 of 33 games his sophomore season en route to averaging 8.2 points and 5.3 boards. "Whatever is better for the team. Whatever coach feels is best."
Kaun and Self received a big scare last Thursday when the 6-foot-11, 245-pounder, who had just been cleared to practice every day instead of every other day, rolled his ankle at practice.
"It was a little frustrating when it happened. I said, 'Not another thing,'" Kaun said. "I'm happy that was quick (recovery)."
Kaun said he's noticed an improvement in the Jayhawks of late.
"I am feeling good about this team. We can see we are getting better every day," Kaun said. "I know we're going to be great, for sure."
Self said he has noticed extra energy at practices of late.
"This is no way an excuse (but) we've had a tough year with our class schedule," Self said. "We can't practice until 4:30 or 4:45 (p.m. because of classes).
"They have tutors until, 8, 9, 10 (p.m.). It's a full day. They leave the building at 11 at night, it's the same the next day. It's nobody's fault. it's the way the schedule fell with classes to take.
"Since school has been out, even in finals week there was not as much pressure on them because they were not occupied 16 of the 24 hours of the day.
"They had some free time - even though it was finals week - they could commit to what they really enjoy doing. It's been a grind. I feel these guys have a free mind now. They are fresher than they've been the entire semester, at least they look that way to me."
Tip for Saturday's KU-Boston College game is definitely 1 p.m. It was listed as 12:30 p.m. on some earlier schedules.
"We have to play extra smart Saturday. They are a great great team. They run a lot of stuff, screens and everything. We need to get ready for it," Kaun said of the B.C. game.
Copyright 2018 The Lawrence Journal-World. All rights reserved. This material may not be published, broadcast, rewritten or redistributed. We strive to uphold our values for every story published.