Don't let winter weather keep you from decking your porches, patios, planters, window boxes and hanging baskets.
Most anything that grows in the ground during Kansas' most frigid season is likely to thrive in a pot, too. So why let the Southern states and tropical islands have all the fun?
"The easiest (and probably the most common) thing I've always done is just stick fresh boughs of evergreens into the pots or window boxes," says Karen Pendleton, owner of Pendleton's Country Market, 1446 E. 1850 Road. "I utilize the bottom branches of the Christmas tree that we've cut off, cedar from the pasture and holly from my bushes in front of the house. Using lots of textures is key."
Local florist John McCaffrey uses a similar strategy.
"A person can use almost anything evergreen they can scavenge from their garden," he says. "Simply prune it and place it in a pot, and it should last all winter."
McCaffrey recommends using branches and twigs, too. There are also yews, junipers, boxwood, magnolia, redtwig dogwood, birch, winterberry holly, crabapple and aronia, some of which might be available in your own backyard.
Using containers
While you thought you were being lazy by not lugging in those heavy pots and birdbaths indoors, it was actually serendipity that kept that chore at bay. Now those containers are already right where you can decorate them.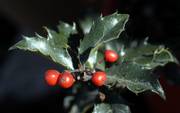 It is best to use containers made of a nonporous material in the winter, like wood, metal, stone or glazed ceramic. Terra cotta pots can crack with the expansion, contraction and freezing of moisture, so it is best to store those containers for the spring.
Use either sand, gravel or the existing soil to anchor loose stems, boughs and cut branches. You might spray loose boughs of evergreens with antidesiccant to help seal in their moisture. It also is advisable to keep pots and boxes protected from the elements, maybe under a porch or an awning, and isolated from strong winter breezes.
I created a couple of potted winter arrangements using dwarf conifers like false cypress, dwarf alberta spruce and some creeping sedum potted in soil, and then I stuck some twigs of dogwood and winterberry in for a splash of height and color. I plan to transplant the conifers and sedum into my garden later to enjoy for years to come.
Outdoors in
If you feel as if the outdoors are brimming with creative ideas, try bringing in traditional outdoor items, like birdbaths and urns. A small birdbath could be filled with seasonal fruits, frilly artichokes and colorful pomegranates. Or pour in some water to support floating candles and flowers heads. You might incorporate your outdoor urn by placing it next to the fireplace to store kindling or make an indoor arrangement, possibly even plant amaryllis, paperwhites and cyclamen right into the urn's basin.
There are so many alternatives to help create a winter wonderland, whether it's indoors by the glow of the fire or outdoors enveloped by a blanket of snow. Garden pots, urns, boxes, birdbaths and the like are an inspirational canvas all year long.
Sprucing up outdoors
Here are some plants that work well in our area for spectacular pots and boxes:
Boughs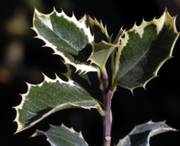 White pine
Australian pine
Spruce
Balsam
Cedar
Gold-tipped cedar
Juniper
Holly
Boxwood
Branches
Red dogwood
Yellow dogwood
Small tree branches painted red, white or silver
Berried branches
¢ Juniper - frosty blue berries that cluster
¢ Gold-tipped cedar - tiny yellow berries
¢ Winterberry - bright red berries on dark branches
¢ Beautyberry - violet berry clusters
¢ Pepperberry - small pink, green and red berry clusters
Other details
¢ Seed pods - milkweed, lotus
¢ Pine cones - varying sizes maybe even spray some with glitter
¢ Ornaments - shiny, bright balls of various colors and sizes
¢ Feathers - pheasant, ostrich or peacock
¢ String fresh cranberries
Copyright 2018 The Lawrence Journal-World. All rights reserved. This material may not be published, broadcast, rewritten or redistributed. We strive to uphold our values for every story published.