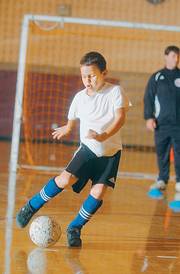 Saturday night at the East Lawrence Rec Center the Lawrence Futsal program held a 10- and under clinic for soccer enthusiasts who enjoy playing the game just as much indoors as they do outdoors.
On this particular night only three youngsters attended the clinic, but 8-year-old Austin Lindberg and 7-year-olds Robert Kleibohmer and Jack Junge took full advantage of the event.
Coach Mauro Nobre has run futsal clinics for about five years. He said clinics like the one held Saturday night gave the kids a great chance to improve their skills and have a great time.
"It's a lot of fun," Nobre said. "But while they're having fun they're acquiring the right habits to give them the foundation that they need."
The three futsal players began practice by dribbling the ball around a line of cones and then shooting into the goal. Then they practiced the cross-over dribble, using both feet to kick the ball from side-to-side to set up more shots on goal.
"We do basic technical skills and basic fundamentals," Nobre said. "We're trying to combine the dribbling with the shooting like in a game situation."
Nobre said cone and technique drills are essential for soccer players because they help improve a player's agility and coordination.
Having those skills improves their mobility with the ball, which allows them to dribble in any direction using any part of the foot.
"If they get the foundation now, then everything becomes second nature," Nobre said. "Then when they're older they can go much farther in their technical and tactical development. And their skills will be much more advanced. But if they don't get the foundation now they're going to struggle."
The three clinic participants didn't seem to struggle picking up any of those skills at Saturday's event. In fact, they excelled at them, especially shooting.
While Junge played goalie, Kleibohmer and Lindberg were supposed to take turns shooting at a few second intervals. They took turns all right.
They shot at a rapid-fire pace, leaving Junge with little chance to defend the goal. Although their confidence in taking a shot was important, Nobre had to instruct them to take more time in between each shot.
After Kleibohmer and Lindberg slowed their shooting pace, Junge was better able to guard the net. The three then took turns alternating between offense and goalie.
"I liked being goalie and kicking it around," Junge said. "It was fun."
Kleibohmer made several nice shots during the clinic, including one goal that curled into the top corner of the net. Kleibohmer said there's a good reason he was such a good scorer.
"I think probably practice," he said. "Lots of practice."
Kleibohmer said that during practice he also liked passing and defending, but liked scoring goals better.
Lindberg spent a good portion of the clinic playing goalie and showed off some potential by making several diving saves. He said while he liked dribbling, passing and shooting, playing goalie was what he liked to do the most - no matter where.
Lindberg added that while he liked playing outdoor soccer, indoor soccer had its benefits.
"Indoor soccer is better than outdoor because it's not cold inside," Lindberg said.
And whether the game was played indoors or outdoors, Nobre's fondness for soccer was still the same.
"I love this," he said. "If there's ever a weekend where I don't have any soccer, I don't know what to do with myself. This makes my day."
Copyright 2018 The Lawrence Journal-World. All rights reserved. This material may not be published, broadcast, rewritten or redistributed. We strive to uphold our values for every story published.