Nashvile, Tenn. — Tennessee coach Bruce Pearl thought about benching Dane Bradshaw late because of the senior guard's injured right shoulder.
Good thing he didn't.
Bradshaw scored on a putback with 1.9 seconds left, and Tennessee ended No. 15 Oklahoma State's perfect start by beating the Cowboys, 79-77, Monday night.
"Ironically, he tipped it in with his right hand," Pearl said. "He can't raise his arm to make a free throw. I thought about subbing him on injury. But how could you in that situation? And he made one."
Bradshaw will have an MRI exam on both shoulders today, but it will likely show damage in his right shoulder, which he injured in New York last month at the NIT Season Tip-Off. He plans to keep playing if possible.
He was hurting enough that he missed a free throw that barely hit the rim with 2:55 left. He did make the second for a 75-74 lead and helped force a steal in the final seconds. And when Ramar Smith missed a shot, Bradshaw was there to tip it in.
"It hurt a little bit on the way up. But put me in game-winners from two feet away, and I got you all day," Bradshaw said.
Byron Eaton lobbed the ball downcourt, Mario Boggan caught it and threw up a last shot for Oklahoma State (11-1), but it bounced off the rim as the buzzer sounded.
"I didn't get as good a shot as I thought I was going to get," Boggan said. "We got a good look at the basket. Coach (Sean Sutton) drew up a good play. (I) just missed the shot."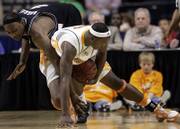 Oklahoma State came in with its best start since going 13-0 to start the 2001-02 season, but this was the Cowboys' first game in a week because of finals and their first without their third-leading scorer. Freshman guard Obi Muonelo broke his ankle in practice Saturday.
"We can't sit here and cry about it and make excuses, but he's a big part of our team," Boggan said. "They pressed us. he's good at breaking the press, getting guys involved. We missed him a lot."
The Volunteers (9-2) have only lost to No. 2 North Carolina and No. 16 Butler this season. They used their deeper bench and got the Cowboys into foul trouble early in a sloppy, physical game. It worked as they wore down Oklahoma State in the final minutes.
Copyright 2018 The Associated Press. All rights reserved. This material may not be published, broadcast, rewritten or redistributed. We strive to uphold our values for every story published.