As an artist, it takes courage to create something and then let other people see it.
Judgments can be harsh, and that's no fun - especially when you've poured so much of yourself into your artwork.
But the risk makes it that much sweeter when the response is positive.
Seventeen Lawrence High School students had the latter experience when their photographs were recently accepted to the annual Hays Five State Photography Competition and Exhibition. For the most part, they weren't competing with other students. The competition is open to amateurs and professionals in five states.
Of 497 entries submitted, 177 were accepted into the show, which is on display through Jan. 19 at the Hays Art Center Gallery. Alyssa Thiel won first prize in the People category with her photo of a little girl, "Mia." The award carried a $250 cash prize. Kandice Hall received a juror's special merit recognition for a self-portrait called "Artistic Motif."
Angelia Perkins, who teaches photography at Lawrence High School, says she's proud of her students for having the guts to submit their images for critique. More students get rejected than accepted in the show, which pits them against photographers from Kansas, Missouri, Nebraska, Oklahoma and Colorado.
"It is one thing to compete with other students, but you are really taking a chance competing against professionals in many cases," Perkins says. "It is an important lesson in life to learn about winning AND losing. I encourage students to enter competitions and ask for hardcore critiques from as many people as possible, but it is ultimately their own decision to take the chance on people's reactions to their art."
The following students also had work accepted:
Photo Gallery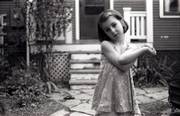 Student artists
¢ Matt Avila, "Wheatman and Honey Bee"
¢ Caitlin Bowlin, "Sterling" and "Rear View Mirror"
¢ Sam Claypool, "Fresh!"
¢ Mallory Hughes-Pfeifer, "Insight"
¢ Lauren Johnson, "Buddha"
¢ Kara Kellison, "Closet Perfectionist"
¢ Katie Kennedy, "Untitled," "Untitled" and "The Best Medicine"
¢ Briana Lewis, "Discarded Luxury"
¢ Kelsey Pike, "Sono Un Kogljone" and "Alienation"
¢ Kaela Severa, "Live placeCityWorms Experimental Take 434"
¢ Dylan Smith, "Lost My Mind, It was Blowin' in the Wind"
¢ Stefanie Stuever, "Staring Contest" and "Sisters"
¢ Rose Tarman, "Hot Dogs with Beer Brats"
¢ Jerry Wang, "Stripes and Petals"
¢ Katie Woolery, "In the Garden"
Copyright 2018 The Lawrence Journal-World. All rights reserved. This material may not be published, broadcast, rewritten or redistributed. We strive to uphold our values for every story published.