The transition from NCAA Div. II to Div. I has been a painful one for Winston-Salem State University's tradition-rich basketball program.
"It's tough, very tough," senior guard Curtis Hines told the Winston-Salem Journal. "I didn't lose in high school, and my first three years here we were successful, so in this transition year we have to get through it as best we can."
The proud Rams - who, under the direction of legendary coach Clarence "Big House" Gaines and Hall of Fame guard Earl "The Pearl" Monroe, won the 1967 NCAA Div. II championship - are off to a 1-13 start heading into today's 7 p.m. clash at Kansas University.
While painful to take, the dismal start for a program that has had 10 straight winning seasons is understandable considering Winston-Salem State is in its first full season at the Div. I level.
Not eligible to play a full slate of games in the Mid-Eastern Athletic Conference until next season, WSSU is competing as an independent with 23 games on the road, just six at home and 25,000 frequent-flier miles and $500,000 worth of guarantee money on the docket.
So far, the Rams are 1-2 at home, 0-11 outside of tiny, 3,000-seat C.E. Gaines Center in Winston-Salem, N.C.
"This is a new breed of athlete. We have to step up our competitiveness," junior guard Roy Peake said of Div. I.
Actually, first-year coach Bobby Collins - he helped Hampton University make the transition to Div. I - has no complaints about the work of his players.
The Rams, who are coming off Saturday's 76-32 loss at Georgetown, led South Florida, 22-21, at halftime and, 33-27, with 13 minutes left in a recent 63-43 setback.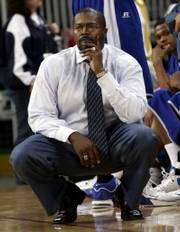 "They are a great bunch of kids, and they do things during the day that make me laugh or smile," Collins told the Journal. "And we stay up as best we can through all of this. I can't get mad at them for losing because we know what we are up against, and they are working hard, and I know that. We just have to keep fighting and keep recruiting, and there is a light at the other side of the tunnel."
The Rams returns three seniors and four juniors off last year's 19-10 team.
"It's real frustrating," said sophomore Jamal Durham, who averages a team-leading 9.8 points and 4.6 boards a game. "To take losses like this on the road and at home, it gets to you. It's kind of hard to stay focused so you just have to stay strong and keep playing.
"We have to fight every night. We have to prepare ourselves for the long road, and this is a process playing all these Div. I teams. It's not going to get any easier."
"There aren't any losers on this team," noted senior guard Lowen Wray, who contributes 3.5 ppg. "So it's hard to deal with. You just have to make sure you walk around with your head up. Even though we are losing, we have to keep the faith. We are family and pick each other up. That's all you can do."
The Winston-Salem State community has been behind its road warriors, realizing the competition has been tougher than the days of coach Gaines, who won 828 games against 447 losses in 47 glorious seasons.
"I have a great AD and a great chancellor who constantly remind me we are in a transition year," Collins said. "And that keeps me balanced and keeps me level-headed. We have a great bunch of kids, and we work hard and are playing to the best of our abilities.
"I am nowhere near down. I'm going to keep coaching and competing and the guys will do the same."
Copyright 2018 The Lawrence Journal-World. All rights reserved. This material may not be published, broadcast, rewritten or redistributed. We strive to uphold our values for every story published.