New York — With its image tarnished again, the NBA on Monday responded to Saturday night's brawl between the New York Knicks and Denver Nuggets by suspending seven players and fining both teams $500,000 each.
Commissioner David Stern handed down the toughest punishment to Nuggets star Carmelo Anthony, who sucker-punched Knicks rookie Mardy Collins in the melee, which took place with 1:15 left in the Nuggets' 123-100 victory at Madison Square Garden. Anthony received a 15-game suspension, the sixth-longest in NBA history.
Knicks guard Nate Robinson, who was seen as an instigator, and Nuggets guard J.R. Smith each was given a 10-game suspension. Collins, who sparked hostilities with a flagrant foul on Smith, will be suspended for six games and Knicks forward Jared Jeffries for four.
Knicks center Jerome James and Nuggets center Nene were suspended one game each for leaving the bench area during an on-court altercation.
The Knicks had eight players available for Monday night's game against the Utah Jazz at Madison Square Garden.
"We understand that this is a game of great emotion - sometimes slightly over the line - and our players know how to deal with it, our teams know how to deal with it," Stern said. "But we cannot in good conscience allow it to escalate. And that's what this situation did and that's what my actions today are meant to focus on."
Stern decided against taking any action against Knicks coach Isiah Thomas, who was caught on camera a few seconds before the flagrant foul telling Anthony "Don't go to the basket right now; it wouldn't be nice."
"There was no adequate evidence upon which to make a determination," Stern said of Thomas' role in the brawl. "You have to find something in order to suspend someone. Even in the NBA, there's a presumption of innocence."
Thomas on Monday morning said he didn't issue a warning to Anthony. "It wasn't necessarily, 'Don't go to the basket,' but basically, 'Don't rub it in,'" Thomas said. " 'It wouldn't be a good idea for you to go to the basket and dunk on our guys. We're down 19, you don't need to act like that. Show some class.' "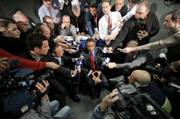 Thomas accused Nuggets coach George Karl of trying to run up the score on the Knicks. As a result, Thomas said, "I think he put his players in a very bad position."
Karl on Monday offered a profanity-laced rebuttal after the Nuggets' shootaround in Denver.
"I'll swear on my children's life that I never thought about running up the score," said Karl, who called Thomas "a jackass."
The two have had a verbal feud going since the summer, when Karl criticized Thomas and the Knicks for the handling of the Larry Brown situation. Karl and Brown are both from the Dean Smith/North Carolina coaching fraternity.
Stern seemed annoyed by the banter between the coaches and most especially in Thomas' postgame comments, which did nothing to defuse the situation.
"The appropriate thing for anyone to say after this kind of a situation is either a.), nothing, or b.), 'This is not something of which we can be proud or we condone,'" Stern said. "And anyone who has a different public view than that is going to have to deal with me, because that's not what we're about and that's not the example that we're setting."
Anthony issued a statement of apology Sunday. Monday, Knicks chairman James Dolan, who attended Saturday night's game, issued his own statement on the situation.
"I believe the commissioner acted appropriately, as it was an ugly incident not worthy of the Knicks, Nuggets, Madison Square Garden or the people of New York," Dolan said in the statement. "The incident was deeply regrettable, unacceptable on every level and I hope and expect to never witness anything like it again. We are all very sorry it happened."
Dolan's statement effectively ended any comment by the Knicks. But the players addressed their involvement after the morning shootaround.
"I don't want to send the wrong message to kids," Robinson said, "saying it's cool to fight and to go out there and do those kinds of things."
Collins, a mostly anonymous player until Saturday night, found himself surrounded by cameras and microphones yesterday morning. He said Thomas never told him to take out Smith.
"The only thing Coach said was to play hard for 48 minutes," Collins said. "I barely get out there and play, so when I get out there, my job is to play hard. ... I just didn't want the guy to do a dunk. I could have easily hit the guy when he went in the air and that would have been a worse foul. I just tried to stop the guy before he went into the air."
Collins said he didn't regret fouling Smith as hard as he did. "I just regret that the whole thing escalated the way it did."
Copyright 2018 The Lawrence Journal-World. All rights reserved. This material may not be published, broadcast, rewritten or redistributed. We strive to uphold our values for every story published.