It was hard to say goodbye to Kansas University's Learned Club.
"It was the best place in the state of Kansas to eat, to dine, to socialize," said Larry Welch, director of the Kansas Bureau of Investigation and a KU graduate.
Seven years after the upscale dining service inside Adams Alumni Center closed, KU officials are mulling a revival of the university club concept.
"It's really seen as a tool for the institution - for administrators to do business and for faculty to exchange information," said David Mucci, director of KU Memorial Unions. "The trick for us is to try to find a model that we can make work financially."
The university is surveying employees to gauge interest.
The swanky Learned Club - which offered dining services for university and nonuniversity luncheons and gatherings - closed in 1999 following an Internal Revenue Service audit. The club, named for 1888 KU graduate Roscoe Learned, had been in operation for 16 years.
The IRS determined the à la carte dining operation was not part of the Alumni Association's mission, said Jennifer Jackson Sanner, senior vice president for communications.
Sanner said the Alumni Association could have created a separate nonprofit organization for social clubs. But after studying the concept, the Alumni Association determined it would not be economically feasible, Sanner said.
She said at the time of the Learned Club's closure, the Alumni Association asked Memorial Unions whether they could take up operation of the service.
"They elected at the time not to pursue that," she said. "Whether the landscape has changed that much in seven years, I couldn't say."
Memorial Unions
But the landscape has changed, Mucci said, and with administrative support a new university club may be possible. He said the unions won't face the same issues the Alumni Association did.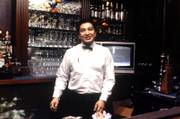 "That's definitely within our purview and would not create a conflict," Mucci said. "We run a food service on campus every day."
Mucci said the unions had originally declined to pick up the Learned Club because at the time the cost of renting the space from the Alumni Association was high. It was about $88,000 for lunches during regular school sessions, Mucci said, and the past provost didn't make it a priority to underwrite the costs.
"We have a new provost," Mucci said. Richard Lariviere replaced David Shulenburger in the position this year.
"There are new priorities. It appears this is a priority that the provost wants to pursue."
Mucci said the challenge is finding a way to operate such a club financially. He said KU still needs to determine whether to charge fees and at what amount and how much external business would be needed to keep the operation running.
A survey circulating on campus asks whether there's interest in a full-service bar, meeting rooms and availability for special events, private parties and receptions.
It also is asking where faculty might want to locate such a service. It lists the following possible locations: Adams Alumni Center, Burge Union, Daisy Hill near the KU Visitor Center, the Kansas Union, a location near the Hall Center for the Humanities, Spooner Hall, Wescoe Hall and West Campus.
The survey findings will be forwarded to the provost, who Mucci said was very interested in moving forward on the project. Lariviere could not be reached for comment.
"If he had his way, it'd be here tomorrow," Mucci said.
Community
Many say KU needs a place where employees and others can gather, and some see such a club as a way to create a sense of community that is currently lacking atop Mount Oread.
"A gathering place for faculty and staff is much needed - there's no question about that," said Elizabeth Banks, KU associate professor emerita of classics.
Banks said when she stops in at Wescoe Hall, she's discovered that some faculty who work on the same floor haven't had the chance to meet one another. But she attributes this not only to a lack of a hangout spot, but also to the "publish or perish" climate and other factors.
"I'm sure there are new people in German and French who people in Classics don't know - and they're one corridor over," she said.
When the Learned Club closed, people turned elsewhere for gathering and networking.
"It's mostly through athletic channels now," Welch said.
Business professor James Guthrie said he gets together with other KU employees through the Mad Dogs and Englishmen running club that runs during the noon hour.
Guthrie said he'd use a university club for recruitment and meeting with campus visitors.
Copyright 2018 The Lawrence Journal-World. All rights reserved. This material may not be published, broadcast, rewritten or redistributed. We strive to uphold our values for every story published.