Elizabeth Kurata didn't get a chance to exchange gifts with her world-traveling daughter last year - being separated by four states and the world's largest ocean will do that - so this season she's more than making up for it.
Kurata's giving her the family business.
Kurata, owner of African Adorned, will close up the shop Dec. 31 after more than 21 years in charge. A day later, the basement-level business at 5 E. Seventh St. will be owned by her daughter, Alia Sachedina, who has spent the better part of the past three years backpacking throughout southeast Asia, China, Burma, east Africa and much of Europe.
"We haven't spent Christmas in a traditional way" for a long time, Sachedina said. "I wouldn't call this a gift, exactly, but I feel grateful for my mother. This gives me a huge head start - to have this foundation, this long legacy of management under her."
African Adorned opened in October 1985, occupying a vacant storefront that leased for $200 a month, utilities included. The shop started by selling dozens of necklaces, bracelets and Kenya bags that Kurata had accumulated while living in Africa for most of the previous decade.
Plenty has changed since then. These days the rent's up a bit - "about five times more," Kurata said - and the shop no longer stocks anything from Africa, opting instead for jewelry, statues, wind chimes and other items from exotic locales seemingly anywhere but the world's second-largest continent.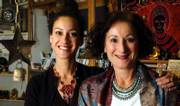 Kurata declined to disclose financial details about her shop, other than to acknowledge that its best year came in 2003 and that it continues to post sales that more than justify its continued operation.
Kurata opened the place when she had less than $1,000 to her name and is more than happy to pass along a much more robust asset to her daughter. Two years ago, Kurata helped a son, Zia Sachedina, open a similar place in Savannah, Ga., and annual sales there already have topped Kurata's best year.
"I look at it as helping my kids fulfill their potential," she said. "It's my duty. It's fantastic."
Copyright 2018 The Lawrence Journal-World. All rights reserved. This material may not be published, broadcast, rewritten or redistributed. We strive to uphold our values for every story published.