San Diego — It was an electrifying run in a charged-up season.
LaDainian Tomlinson turned a simple off-tackle play into an 85-yard touchdown run, lighting up Qualcomm Stadium and carrying the San Diego Chargers to a 20-9 victory over the Kansas City Chiefs on Sunday night.
"It was absolutely perfect," Tomlinson said. "I don't know if you can draw it any better. Once I saw the crease, and the safety took a bad angle, I felt like I was running track again. ... I felt like I could go all the way."
Sort of sums up San Diego's season to date.
The AFC West champion Chargers (12-2) won their eighth straight and kept the inside track to home-field advantage throughout the AFC playoffs. They tied franchise records for wins in a season, last accomplished with a 12-4 record in 2004, and for their winning streak.
Tomlinson finished with 199 yards and two touchdowns on 25 carries to take over the NFL rushing lead from Kansas City's Larry Johnson. It was Tomlinson's eighth straight 100-yard game.
The Chiefs (7-7), playing four nights after the death of their owner, Lamar Hunt, had their wild-card chances severely damaged.
Prior to kickoff, there was a video tribute and moment of silence for Hunt, who died Wednesday night of complications from prostate cancer. He was 74. The Chiefs had "LH" decals on the backs of their helmets.
Hunt was the founder of the AFL and a driving force in the merger with the NFL. He even came up with the term "Super Bowl."
But this night, as so many Chargers games have this season, belonged to Tomlinson.
One play after Chargers long snapper David Binn recovered a blocked punt, Tomlinson burst through a huge hole and outraced cornerback Patrick Surtain and linebacker Derrick Johnson down the left sideline for his second TD.
And to think, Chiefs defensive end Tamba Hali called the Chargers "a finesse team" eight weeks ago after Kansas City beat San Diego 30-27 at Arrowhead Stadium.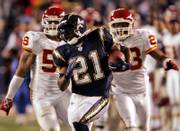 The Chargers haven't lost since.
Center Nick Hardwick said the Chiefs ran a weak-side blitz, so the Chargers bounced out a play to the strong side.
"They had no idea," Hardwick said. "You just hear the crowd roaring, then pop your head up, look down, see the back of his numbers and cheer him on because you can't do anything at that point.
"He's a freak show, though," Hardwick said of Tomlinson. "To be that fast at this point in the season, with tired legs, that says a lot about his conditioning and the way he works."
Proving he can light up a stadium like no other player, Tomlinson's touchdown was greeted by a burst of fireworks above Qualcomm Stadium and spotlights inside the big concrete bowl.
Tomlinson said he took a shot to the jaw late in the game when the Chargers were stuffed inside the Chiefs 10, and was hit again later.
"I don't think it's serious. But even if it is, I'm still going to play with it."
The longest run of Tomlinson's career:
- Was his 31st TD, extending the single-season record he set a week ago.
- Gave him 186 points, extending the single-season record he set in the first quarter. With a 15-yard TD run on San Diego's opening drive, Tomlinson broke Paul Hornung's 46-year-old NFL season record of 176, set with the Green Bay Packers in 1960. Hornung was a kicker as well as a halfback for Green Bay.
- Made his 28 TDs rushing the most ever in a season. He also has three TD catches. His totals don't count the two touchdown passes he's thrown.
- Gave him eight straight multi-touchdown games, breaking the record he shared with John Riggins.
Asked about all the records he's breaking, Tomlinson said: "It's happening so much now, I can't keep up anymore. To be honest, I don't want to keep up. I just keep rolling."
Tomlinson has 1,626 yards to Johnson's 1,516. Johnson had 84 yards on 19 carries.
One play before Tomlinson's 85-yard run, Mike Scifres' punt was blocked by Kansas City's Bernard Pollard, but Derrick Ross of the Chiefs touched the ball beyond the line of scrimmage and Binn recovered.
"At that point it's a first down for someone because they have touched the football," referee Jeff Triplette said.
"It could have turned the momentum in our way but it didn't," Chiefs coach Herm Edwards said. "It got them the ball back, and the next play, the guy makes the big play."
It turns out L.T. isn't quite perfect. He lined up in the shotgun formation on third-and-4 from the Kansas City 7 early in the fourth quarter. He slipped and was thrown for a 5-yard loss, bringing on Nate Kaeding for a 30-yard field goal.
Tomlinson also scored on a 15-yard run in the first quarter. That drive was kept alive when Tomlinson's backup, Michael Turner, gained 25 yards on a fake punt.
Lawrence Tynes provided all of Kansas City's points with field goals of 45, 52 and 24 yards.
His 24-yarder, in the fourth quarter, was set up when Greg Wesley picked off Philip Rivers' poorly thrown pass.
Kaeding added a 22-yard field goal late in the game.
Rivers was a pedestrian 8-of-23 passing for 97 yards, with two interceptions and no touchdowns. Frustrated by a third-down incompletion, he tossed his helmet on the sideline. Trent Green was 23-of-41 for 185 yards and one interception.
"I thought they handled it well and played hard," Edwards said of his Chiefs. "The team played through a lot of adversity today."
Notes: Chargers LB Randall Godfrey (hamstring) and receiver Eric Parker (neck) were injured and didn't return.
Copyright 2018 The Associated Press. All rights reserved. This material may not be published, broadcast, rewritten or redistributed. We strive to uphold our values for every story published.