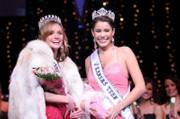 Amid the jubilant screams that filled the Lied Center on Sunday night, the new Miss Kansas USA and Miss Kansas Teen USA winners could not hold in their tears and shakes.
Miss Clearwater USA Cara Gorges, 19, a Butler County Community College cross-country runner, broke through in style during her first pageant and was named Miss Kansas USA 2007.
"At first I was like, 'I guess I should probably wake up now,'" said Gorges, a 2005 Clearwater High School graduate. "And then I was just shaking so much I thought I was going to fall over, and I thought I was going to pass out. This was nothing that I expected at all."
Miss Lenexa Teen USA Jaymie Stokes, 15, a sophomore at Shawnee Mission West High School, won the crown for Miss Kansas Teen USA 2007.
"I haven't soaked in it all yet, it's so exciting," Stokes said. "At first I didn't realize it, but now, it's great. It's going to be a fun year."
The two winners will represent the state in the Miss USA and Miss Teen USA pageants next year, and they will receive scholarships and gifts. They competed in Lawrence during two days of swimsuit, evening gown and interview competitions.
More than 30 contestants from across the state vied for each title.
Audio Clips
Miss Kansas USA
Former pageant winners from Midwestern states judged the preliminary, semifinal and final rounds. Vanbros Associates produced the two simultaneous pageants.
Gorges said she thought her public speaking confidence may have helped her overall.
"That must have come through (during) my swimsuit and evening gown and everything," she said.
Stokes said her preparation for all three areas helped her performance.
"I thought the swimsuit went really well. I thought they all went really well. I liked it a lot. It was so much fun," she said.
Gorges is the daughter of Larry and Michelle Gorges of Clearwater. Stokes' parents are Stan and Donna of Lenexa.
Photo Gallery
Miss Kansas USA
In the teen competition, Jovana Mirabile of Leawood was the first runner-up. The other three finalists in order were Shea Casurole, Independence, Summer Bills, Leawood, and Darcy Cramer, Arkansas City.
In the Miss Kansas USA competition, Destiny Bounds, Overland Park, finished second. The other finalists in order were Megan Bushell, of Lawrence and Santa Monica, Calif., Kristen Conway, of Mission Hills, and Tracee Stout, Mission.
Copyright 2018 The Lawrence Journal-World. All rights reserved. This material may not be published, broadcast, rewritten or redistributed. We strive to uphold our values for every story published.