Dallas — As much as Lamar Hunt enjoyed running pro sports teams and leagues, what he loved most was the excitement of a ball game.
And, sometimes, a good hot dog.
Yet when hunger hit, this son of an oil tycoon born into wealth and privilege didn't summon anyone to fetch it for him. He'd walk over to a concession stand, get in the back of the line and wait his turn, just like any other fan.
"Someone would come up to him and say, 'You look just like Lamar Hunt.' They just couldn't believe he was in a concession line," longtime friend and business colleague Jack Steadman said. "He was totally unpretentious."
Hunt's humility, as well as his passion for sports, were the dominant themes at a memorial service Saturday. He died Wednesday night from complications of prostate cancer. He was 74.
"This is a sad day for many of us in many, many sports," former NFL commissioner Paul Tagliabue said. "Not only in football, in tennis, soccer ... probably every sport you could think of. There is a huge, dark void for all of us."
Hunt was the founder of the AFL and a driving force in the merger with the NFL. He came up with the term "Super Bowl," and his team, the Kansas City Chiefs, was involved in the first one played under that name.
His NFL legacy lives on through the Chiefs and their ongoing stadium construction, innovations he championed such as the two-point conversion and the Lamar Hunt Trophy that goes to the AFC champion. Hunt was the AFC president for many years after the merger and his one-time assistant Roger Goodell is now the NFL commissioner.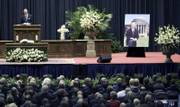 "He had great vision with a particular attention to detail," Goodell said. "He realized the game was what was important, not individuals."
Overall, Hunt was inducted into eight Halls of Fame and won 13 championships in five sports. Six came from the Chicago Bulls; he was a part-owner since their inception.
Yet the number that best defines Hunt is, of all things, his phone number - because he always kept it listed in the Dallas directory.
"It didn't matter your station in life, your race, your beliefs - even your favorite football team - he treated everyone the same," said son, Clark Hunt, who has been running the Chiefs with his dad.
"He made you feel you were working with him, not for him," said Steadman, who worked alongside Hunt for 47 years with the Texans and Chiefs.
More than 1,000 people attended the memorial service, which was fittingly held at a sports venue, the basketball coliseum at his beloved alma mater, SMU.
Just as fitting was the simplicity of the on-stage decor: two white candles around an open Bible, two crosses made of white roses, five other bouquets of white roses and one unframed picture of a smiling Hunt on the school's campus.
Goodell and Tagliabue were joined in the crowd by players association boss Gene Upshaw and at least 10 team owners, including Hunt's fellow AFL originals Bud Adams of the Oilers-Titans and Ralph Wilson of the Bills. Raiders owner Al Davis sent former players Jim Otto and Willie Brown on his behalf.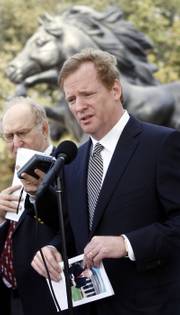 Dallas owner Jerry Jones attended before flying to Atlanta for the Cowboys-Falcons game a few hours later. There were many Chiefs greats, too, from E.J. Holub of the old days to recent star Priest Holmes.
Despite all the big-name guests, the speakers during the 90-minute service were Steadman, three of Hunt's four children and his minister. Hunt's fourth child, Lamar Hunt Jr., paid tribute by playing the flute for the song, "The Dance of the Blessed Spirits."
Another service will be held Tuesday in Kansas City.
Hunt battled cancer for eight years. He took a turn for the worse before Thanksgiving and never made it out of the hospital. His family spoke fondly of a recent night spent together at his bedside sharing stories, singing songs and praying. When they left, Hunt told them, "Go Chiefs!"
Another night, Clark Hunt's daughter Grace was getting ready for bed when she asked whether football is played in heaven.
"It doesn't really matter," she said. "If there isn't football in heaven, Pappy will start his own league."
Copyright 2018 The Associated Press. All rights reserved. This material may not be published, broadcast, rewritten or redistributed. We strive to uphold our values for every story published.