Indianapolis — Ohio State and Cincinnati are finally getting back together on the basketball court.
Ohio's two most prominent programs will play today in the Wooden Tradition, their first meeting since 1962 when the Bearcats beat the Buckeyes in the national title game for the second straight year.
"You know there's only one guy at this table that was alive when we last played, and that's (Butler coach) Todd (Lickliter)," Ohio State's Thad Matta joked Friday. "I think this game is really more for the fans, but it will be a great challenge. What's unique is the last two times we played, it was for the national championship."
Forty-four years ago, the lineups were littered with names like Jerry Lucas, John Havlicek, Tom Thacker and Tony Yates. Now, they include Greg Oden and Mike Conley Jr. on one side and virtual unknowns such as John Williamson and Deonta Vaughn on the other.
It appears to be a mismatch. No. 4 Ohio State is 8-1, its only loss coming at North Carolina, while the unranked Bearcats are 7-2 and still trying to find an identity.
But the matchup could give Cincinnati the boost it needs.
"They're ranked really high and we're not ranked at all, so we want to make a name for ourselves," said Williamson, a Columbus native who starts at forward for the Bearcats.
The feud has gone on so long that no players on the current roster were even born when the rivalry really mattered, and, with the exception of Cincinnati assistant coach Larry Davis and Ohio State assistant Dan Peters, neither were any of the coaches.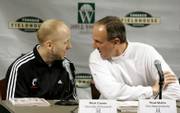 The game also rekindles memories of another geographic rivalry between Cincinnati and Kentucky, which was put on hold from 1948-83.
So this week, Bearcats coach Mick Cronin gave his players a brief history lesson.
"There's a lot of excitement because we haven't played since the '60s or something, I guess," Williamson said. "Coach was telling us how good a game the '62 championship was."
While the Ohio State-Cincinnati game is the feature attraction on today's schedule, there's plenty of intrigue for Indiana fans, too.
Oden, the two-time national high school player of the year, returns to his hometown along with Conley, his high school teammate. Vaughn also played prep ball in Indianapolis and committed to Indiana University before changing his mind.
Not enough?
Game 1 features No. 18 Butler (10-1) and Purdue, two schools that haven't met since 2001.
Copyright 2018 The Associated Press. All rights reserved. This material may not be published, broadcast, rewritten or redistributed. We strive to uphold our values for every story published.