They ran into the fire to save lives.
Five Lawrence police officers received the Medal of Valor, the department's highest award, Friday night for their efforts to save residents of burning buildings.
Four officers were involved in rescue efforts at the Boardwalk Apartments last fall.
Officers Max Miller, Todd Polson and Ryan Sayler and Sgt. Damon Thomas worked through multiple explosions near the burning building to launch a full-scale rescue effort to help residents, including those jumping from the second and third stories, said Police Chief Ron Olin.
Three Lawrence residents died in the massive fire, but the "loss would have been far greater without" their efforts, Olin said.
The officers received a standing ovation Friday night inside a ballroom at the Springhill Suites by Marriott, 1 Riverfront Plaza, during the Lawrence Police Department Graduation and Awards Ceremony.
Officer Shannon Riggs, who has served four years on the force, also received the Medal of Valor for braving dense flames and smoke to rescue a despondent man on April 28 at the SouthPointe Apartments, 2166 W. 26th St.
Olin said Riggs pulled the man up from the floor and escorted him to safety. Riggs then helped officers evacuate other residents from the building.
Capt. Dan Affalter, head of the investigations division, received the Meritorious Service Award for his 30 years of work on the force and efforts in the community, including his "get-it-done style of work," Olin said.
For their work on response and rescue efforts at the tragic Sept. 17 fire at the Glover family home, 1205 N.J., which killed five occupants, Officers Jack Lichlyter, Harold Grady and Vincent Casagrande all were awarded the Distinguished Service Award.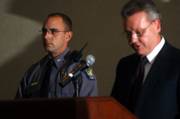 Commendation Awards were given to:
¢ Officer Willie Brown for his 10 years volunteering as an after-school seventh-grade youth football coach.
¢ Officer David Ernst for helping direct the initial response and assisting with the evacuation effort at the Boardwalk Apartments fire.
¢ School Resource Officer Eric Barkley for performing the Heimlich maneuver on a 14-year-old student who was choking during lunch Sept. 27 at Southwest Junior High School.
¢ Officer Sam Harvey for grabbing a suicidal man who was hanging from the Kansas River Bridge on Oct. 4 and pulling him to safety.
¢ Officer Michael Ramsey for escorting a woman who had been sleeping on Oct. 4 from her burning apartment, 1548 Eddingham Drive.
During the graduation ceremony, the department recognized 11 new officers who had completed a 23-week training session and will begin patrol with field training officers soon.
Watch 6News video coverage
Copyright 2018 The Lawrence Journal-World. All rights reserved. This material may not be published, broadcast, rewritten or redistributed. We strive to uphold our values for every story published.