Kansas City, Mo. — Beating Kansas City for the first time in franchise history was fine, sure. So was handing the Chiefs their first December home loss in 11 years.
When they lead the Cincinnati Bengals by more games than there are left to play, that's when the Baltimore Ravens will be really happy.
"If Cincy had lost, you might see a lot more celebration," defensive tackle Trevor Pryce said after Baltimore's 20-10 victory on Sunday. "We're looking at our division first."
The Ravens (10-3) lead the AFC North by two games over the Bengals, who beat Oakland, 27-10, on Sunday, with three games to go.
And despite the low-key postgame atmosphere, Baltimore did take some pride in being the first visiting team to win at Arrowhead Stadium in December since Indianapolis beat the Chiefs, 24-19, on Dec. 15, 1996.
"You guys did a good job pumping it up and giving us locker-room motivation, that they didn't ever get beat in December," said linebacker Terrell Suggs, who had one of the Ravens' three turnovers when he sacked and stripped Trent Green and then recovered the fumble.
"That's all that you guys kept telling us, and it felt like people were kind of writing us off already, but we love that," Suggs said. "We love being the underdog, and we love taking everything. We don't want anything given to us."
Ed Reed had both of the Ravens' interceptions against Trent Green, who was coming off a four-touchdown performance a week earlier in a 31-28 loss at Cleveland.
Steve McNair had a much better passing day for Baltimore, highlighting his 21-for-27, 376-yard day with an 87-yard touchdown pass to Mark Clayton.
The TD throw, which was McNair's longest career pass and Clayton's longest career reception, put the Ravens up 13-0 with just under 61â2 minutes left in the third quarter.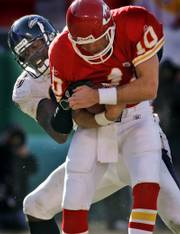 Clayton had to pull up slightly to catch the pass, but was still four yards past cornerback Ty Law when he hauled the ball in at the Kansas City 45. Nobody even got close to him as he sprinted down the center of the field to the end zone.
"With a guy that wide-open, you want to make sure that you don't overthrow him," McNair said.
Lawrence Tynes' 49-yard field goal got Kansas City on the board late in the third quarter, but Jamal Lewis' one-yard scoring run with just under three minutes to go sealed the Ravens' victory.
Green threw a five-yard touchdown pass to Dante Hall with 1:20 remaining, but by then it was too late, and Baltimore took away a win in its first visit to Arrowhead.
Matt Stover kicked field goals of 41 yards late in the first quarter and 23 yards early in the second to put the Ravens up 6-0. The first was Stover's 400th career field goal, and the second was set up by Reed's interception and 11-yard return of Green's tipped pass.
Notes: With 3,848 yards rushing, Johnson moved past Abner Haynes into fourth place on the Chiefs' career list. Haynes ran for 3,837 yards from 1960-64. ... The Ravens are 45-1 under Brian Billick when they get a 13-point lead. ... Baltimore is 4-0 when Reed gets at least two interceptions. ... Suggs became the Ravens' career leader in forced fumbles (14) when he sacked and stripped Green in the second quarter.
Copyright 2018 The Associated Press. All rights reserved. This material may not be published, broadcast, rewritten or redistributed. We strive to uphold our values for every story published.