Portland, Maine — The holiday classics haven't changed that much - radio stations still turn to Bing Crosby, Nat King Cole and Burl Ives to spread yuletide cheer. But your chances of hearing them on the radio are growing fast.
As of Monday, 402 stations from Maine to Hawaii were playing Christmas tunes around the clock to bring in listeners and advertising dollars. Portland has two stations competing over holiday listeners, and some cities have as many as five or six.
Most of the programming kicked off after Thanksgiving; the earliest station made the switch in October before trick or treaters made the rounds.
"It's gotten to the point of ridiculousness," said Tim Moore, operations manager at Portland's WHOM-FM, which began broadcasting its holiday programming on the day after Thanksgiving.
Ridiculous or not, Americans can't get enough of it, said Tom Taylor, editor of Inside Radio, a trade publication owned by Clear Channel.
The number of stations playing those timeless holiday songs already outnumbers the previous record of 386 in 2003, the first year Inside Radio began tracking the numbers, Taylor said from his office in Trenton, N.J.
"Christmas music, for most people, puts a smile on your face. Even if you resist it for a while, you can't hold out forever," he said.
For listeners, the nostalgic music creates a soundtrack as they shop, wrap presents, decorate trees, bake cookies and go to parties.
"It's like a counterpoint to all of the misery in the world. That's the only thing I can figure out," said Phil Crosland, executive vice president of the American Society of Composers, Authors and Publishers in New York.
Behind the holiday cheer and goodwill are strong ratings: Portland's WHOM sees a 38 percent bump in the number of listeners after it switches its format from adult contemporary to 24-7 holiday music.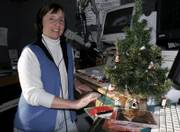 In New York City, WLTW-FM sees a 25 percent increase in listeners even in one of the most nation's diverse markets, said Jim Ryan, programming director.
In Milwaukee, WMYX-FM saw a jump of nearly 50 percent last year despite holiday competition from three other radio stations, said Brian Kelly, operations manager.
"People from the outside may ask why we do this," Kelly said. "The answer is because it works, and that's what our listeners want."
The vast holiday treasure chest includes offerings from artists as varied as Jessica Simpson, B.B. King, Barenaked Ladies, Regis Philbin, Bruce Springsteen and Twisted Sister.
At WHOM, it's Moore's responsibility to review the countless new holiday offerings each season. Most of them end up in the trash bin because they can't compete with "Rudolph the Red-Nosed Reindeer," "Frosty the Snowman," "Let It Snow" and other classics.
Occasionally, newer artists manage to break into the rotation. A couple of recent examples are Josh Groban's "Believe" from the movie "The Polar Express" and Faith Hill's "Where Are You Christmas?" from "How the Grinch Stole Christmas," he said.
But listeners seem to prefer the old songs like Crosby's "White Christmas," Cole's "The Christmas Song," Ives' "A Holly Jolly Christmas," Bobby Helms' "Jingle Bell Rock" and Brenda Lee's "Rockin' Round the Christmas Tree."
"It's a sad fact and a sad reality that there are 30 to 50 Christmas songs that research really well. We already know them," said Moore. "They don't want Clay Aiken's version of 'White Christmas.' They want Bing Crosby, for the most part."
Copyright 2018 The Associated Press. All rights reserved. This material may not be published, broadcast, rewritten or redistributed. We strive to uphold our values for every story published.