San Diego — He's known around here simply as L.T., and in the opinion of long-suffering San Diego Chargers fans, running back LaDainian Tomlinson is ready for nothing short of enshrinement in the Hall of Fame.
Tomlinson's TD surge - he set the single-season record with No. 29 Sunday - certainly has captivated a city tarnished by financial and political scandals. Who knows - maybe there will be a Super Bowl run to keep fans stoked into February and beyond.
Hero worship aside, there's another aspect to Tomlinson that fans don't necessarily see on Sundays.
"For all the skills he has as a player, they pale by comparison to the person," coach Marty Schottenheimer said, his voice quivering, after Sunday's 48-20 win over Denver.
Tomlinson scored three touchdowns against the Broncos to break Shaun Alexander's record and help the Chargers clinch the AFC West championship.
On Monday, Schottenheimer said he doesn't think this city's adulation of Tomlinson was over the top or premature, even though Alexander's single-season mark was only set last year.
"Absolutely not," Schottenheimer said.
The coach's opinion of Tomlinson "is a product of a long, long time in professional football and having an opportunity to witness many, many greats. I believe he's the finest running back I've ever seen in professional football."
Schottenheimer goes all the way back to the era of Hall of Famer Jim Brown. He does admit that it's hard to compare players from different eras, but is quick to add: "At this time, in this era, I think he's the very best."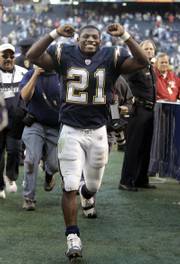 Tomlinson's stats certainly are impressive.
Besides breaking the TD record with three games still to play, Tomlinson has:
¢ Tied John Riggins' NFL record with seven straight multi-TD games. Taking it a few games further, L.T. has scored an eye-popping 26 times in the last nine games.
¢ Scored 174 points this season, just two behind Hall of Famer Paul Hornung's single-season record set in 1960 with Green Bay.
¢ Scored 109 career TDs, tied with Barry Sanders for 12th on the career list. Tomlinson was the quickest in NFL history to reach 100, erasing the mark held by Brown and Emmitt Smith, one of L.T.'s boyhood idols.
Beyond the numbers, though, Tomlinson's humble approach stands out, especially on a team that has had several run-ins with the law this season.
In the huddle before he broke the record, Tomlinson told his teammates he wanted them to join in the celebration. His offensive linemen responded by hoisting him onto their mammoth shoulders.
Last week, right tackle Shane Olivea was discussing Tomlinson's touchdown numbers when he shifted directions as quickly as the running back does.
"The biggest thing I tell people is if your son or your child is ever going to be a superstar or famous, you want them to be like him," Olivea said. "He's the most humble, unassuming, laid-back person you can encounter. For as much success as he has, it's just like it never goes to his head. It's so rare to see that. It's refreshing.
"He's what's right and what's good about the NFL."
Copyright 2018 The Associated Press. All rights reserved. This material may not be published, broadcast, rewritten or redistributed. We strive to uphold our values for every story published.