-->
This is not what Christine Munck needs right now.
Her head hurts, she's sick to her stomach and all she really wants to do is take a nice, hot shower.
"But even that doesn't feel very good because it feels like and smells like I'm bathing in river water," said Munck, who lives in East Lawrence.
There's a reason for that. City utility leaders confirmed Tuesday that Lawrence residents may be noticing an odd taste and smell from their tap water due to an unusual algae occurrence in Clinton Lake.
But city and scientific leaders are assuring everyone that city tap water is safe to drink.
Chris Stewart, the city's interim director of utilities, said Lawrence's Clinton Water Treatment Plant is experiencing abnormally high levels of geosmin, a secretion that is released by lake algae when they die.
The geosmin gives water an earthy or soil-like smell and taste. Stewart said the geosmin levels currently are high enough that it is expected people who are relatively sensitive to taste or smell will notice the difference in the water. City crews are adding extra carbon to the city's drinking water to try to combat the geosmin (pronounced gee-osmond).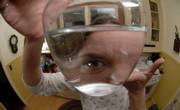 Both Stewart and Paul Liechti, assistant director of the Kansas Biological Survey, which is studying geosmin, said there is no evidence that it creates any health dangers.
"It is not a human health hazard at all," Liechti said. "But for those people who are already feeling under the weather, it is kind of an odor that makes your stomach turn."
The city had a major geosmin issue in December 1995, when geosmin levels hit about 60 parts per trillion. People with sensitive taste buds can begin tasting it at about 5 parts per trillion. After treating the geosmin, the city still had geosmin levels that were above 10 parts per trillion.
City leaders ultimately decided to shut down the Clinton Treatment Plant, which is off Wakarusa Drive, for 10 weeks until the geosmin in Clinton Lake naturally dissipated. During that period, all of the city's water was treated at the Kaw Water Treatment plant, which takes water from the Kansas River.
Stewart said it was too early to tell whether the city may have to temporarily shut down the Clinton plant again. He said the city is expecting test results today to show just how much geosmin is in the water.
Normally, only the areas west of Iowa Street receive water from the Clinton Water Treatment Plant. But during the last five days, all the city's water was coming from the Clinton plant because the Kaw plant was shut down for routine maintenance. The Kaw plant was put back into service Monday.
Copyright 2018 The Lawrence Journal-World. All rights reserved. This material may not be published, broadcast, rewritten or redistributed. We strive to uphold our values for every story published.