Topeka — State officials Monday said they were OK with attempts by Kansas University to reach into Missouri for life science partnerships, but only if it also helps Kansas.
"This is not like football," said Dave Kerr, speaking on behalf of the KU Hospital board. "We should embrace an opportunity to make Missouri hospitals better, as long as our institutions are made better too."
He received agreement from legislators after a clear-the-air hearing on KU Medical Center's affiliation discussions with Missouri hospitals and the Stowers Institute for Medical Research in Kansas City, Mo.
Recent reports have indicated that KU Hospital, the teaching hospital for the medical center, was feeling left out by KUMC's talks about developing partnerships across the state line.
Earlier this year, a task force on establishing a regional life sciences center recommended that the medical center's School of Medicine team with Children's Mercy and St. Luke's hospitals, based in Kansas City, Mo., to increase the patient base needed to lure research dollars.
No harm
While the high-powered talks have been going on, some have questioned whether the discussions would benefit Missouri at the expense of health care in Kansas.
Since then, KU Hospital has proposed paying KUMC $400 million over 10 years if the hospital remains the primary teaching hospital for KU, and will be the lead clinical facility for National Cancer Institute designation. The offer would allow the medical center to expand partnerships with other entities, but only if they didn't create a competitive disadvantage to KU Hospital, officials said.
KU Chancellor Robert Hemenway said the school was studying the offer. But he added KU would do nothing detrimental to the hospital.
"Nobody wants to do anything that will harm the Kansas University Hospital," Hemenway told the Legislature Budget Committee. He said KU wouldn't support any proposal that would transfer Kansas tax dollars to Missouri-based institutions, nor reduce the number of physicians from KU serving in the hospital.
-->
After the meeting, KUMC and KU Hospital released a six-sentence statement that said the two entities were negotiating a "long-term partnership agreement."
The statement said the negotiating would be done behind closed doors with "periodic joint updates of progress."
Life sciences corridor
While emphasizing the need to protect Kansas interests, committee members generally were supportive of KU seeking medical affiliations to make the region a national life sciences center.
Senate President Steve Morris, R-Hugoton, said he hoped to see a life sciences corridor stretching from Manhattan to Columbia, Mo., with "the KU Medical Center and hospital as two cornerstones of that corridor."
Kerr, a former Senate president from Hutchinson, said the best way for progress to continue was for KUMC and KU Hospital to develop plans jointly.
"There's no question there has been some controversy, so I think this is a way that we can be sure that the controversy kind of dies down and we go forward together. And everybody is going to come out a winner if we do that," Kerr said. He declined to comment on past negotiations.
Sen. Dwayne Umbarger, R-Thayer, and chairman of the budget committee, said he thought that already was happening.
"I think the dialogue is already going on between the entities and that we encourage them to continue that process," Umbarger said.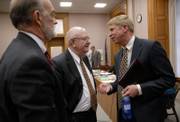 Umbarger and Morris also were confident that KU would sign off on partnerships that would help Missouri only if they were also in Kansas' benefit.
"Not only are we committed to health care services and the well-being of our constituents, but also as it relates to the region, and that also includes Missouri," Umbarger said. "We need to be steadfast in our support of the KU Med Center and for the hospital and KU as a whole."
Hemenway was pleased by the hearing.
"These are exciting times. I'm hopeful that people will recognize what a fantastic opportunity this is," he said.
But at least one lawmaker had questions about KU's intentions regarding the hospital.
State Sen. Jim Barone, the ranking Democrat on the budget committee, said he wanted to make sure that KU Hospital would continue to grow along with KUMC.
Hemenway responded, saying, "The way we are structured, we have to grow together."
Hemenway and Kerr emphasized the success of KU Hospital after lawmakers put the hospital under an independent board in 1999.
But with that success, Hemenway said the hospital needs to pay more to KUMC. Currently, the hospital pays approximately $30 million annually to the medical center for services.
"The financial strength of the KU Hospital now makes a more robust contribution possible," he said.
Kansas University Medical Center & KU Hospital
Copyright 2018 The Lawrence Journal-World. All rights reserved. This material may not be published, broadcast, rewritten or redistributed. We strive to uphold our values for every story published.