Long before the ballpoint pen and the fountain pen, letters were written by dip pens or nib pens. Early pens were simple. They were just a holder and a point. There was no ink reservoir. Geese or swan feathers were favored because the quills were hollow and held a bit of ink above the sharpened point. The steel pen was developed in 1803 in Birmingham, England. Soon, more than half of the pens in the world came from this city. Each pen held a point that was dipped into an inkwell for use. But these dip pens dripped, so pen wipes were necessary. The wipe was made of a "sandwich" of fabric stitched together so the point could be wiped quickly on both sides. Dip pens are still used for calligraphy and some types of illustrations, because the India ink favored by artists clogs fountain pens. The nib or point on a dip pen also can be easily changed to make a wider or thinner line. Many shapes and holders were made for pen wipes. Unusual ones are sought by collectors of both folk art and pens. Many pen wipes are hand-stitched layers of cloth cut into a circle. The creative housewife added a top piece that was often a stitched fabric animal or bird. Look carefully at fabric items at flea markets. You might find an unusual and valuable pen wipe.
Q: In 1973 my sister, who died recently, won the grand prize in Collector's Weekly's $10,000 sweepstakes. Her prize was a carton of boxed Collector's Weekly bottles, medals and plates with a total retail value of $500. She never used or sold any of the prizes, and today they're still in original condition in their original boxes. What are they valued at today?
A: Collector's Weekly was one of the many antiques newspapers and magazines that were published in the 1970s. Your sister's prize consists of items that were new, limited editions. The early '70s was the height of the limited-editions craze. Plates, bottles, bells, dolls, figurines, medals and more made in "limited" numbers were being sold all over the country. The prizes in your sister's carton would sell for far less than $500 today.
Q: I bought an old silver creamer at a local thrift shop. There is engraving on the bottom that reads "Gimbel Brothers Tea Room, New York, 1910, International Silver Co., silver soldered, 1/3 pts." The front of the creamer is embossed with the monogram "GB." Is the creamer sterling? What is it worth?
A: Your creamer is a piece of silver plate. It was made to order for the famous Gimbel's department store that stood on Herald Square in New York City from 1910 to 1987. Department-store restaurants, often called tea rooms, ordered "hotel" silverware and dinnerware (hotel ware is especially sturdy) to be used exclusively in their tea rooms. The GB monogram stands for Gimbel Brothers, and the "1/3 pts." means the creamer holds 1/3 of a pint. Your creamer would sell for about $20. The International Silver Co. was formed in 1898 when a group of American silver manufacturers merged. The company manufactured both sterling and silver-plated wares.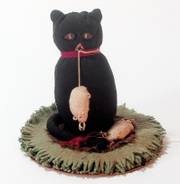 Q: I have an old clock labeled "James Manufacturing Co., 5307 E. 14th St., Oakland 1, Calif., Model J, Patent No. 2098965." It's plastic with metal prongs that can be moved around the face to set off alarms at various times of the day. Can you tell me anything about it?
A: Your clock is called a James "Remind-O-Timer." Several models of the clock have been made, and they're still made today. Today the clocks vibrate, too, and are marketed mainly to the hearing-impaired. The patent number on your clock was issued in 1939, but your clock, with a U.S. postal zone in the address, was made between 1943 and 1963. (The post office introduced postal zones in 1943 and Zip codes in 1963.) Early Remind-O-Timers rang to remind people of activities just as Blackberries and cell phones do today.
Q: We have a complete 12-piece walnut bedroom set manufactured in the 1920s by the American Furniture Co. of Batesville, Ind. The style, we have been told, is Eastlake. What is the set worth?
A: The American Furniture Co. was first organized in Batesville in 1879, then was reorganized in 1888. In 1930 it was one of three furniture firms that merged to form RomWeber Co., which is still in business in Batesville. American Furniture Co. had a reputation for making high-quality bedroom suites in Colonial Revival and other reproduction styles. Most Eastlake furniture made in the United States has incised lines, shallow carvings and turned spindles. A 10-piece bedroom set made by the American Furniture Co. auctioned several years ago for close to $4,000. It's easier to sell a set as large as yours locally; otherwise, shipping is a problem.
¢
The Kovels answer as many questions as possible through the column. By sending a letter with a question, you give full permission for use in the column or any other Kovel forum. Names and addresses will not be published. We cannot guarantee the return of any photograph, but if a stamped envelope is included, we will try. The volume of mail makes personal answers or appraisals impossible. Write to Kovels, (Lawrence Journal-World), King Features Syndicate, 300 W. 57th St., 15th Floor, New York, NY 10019.
Current prices
Current prices are recorded from antiques shows, flea markets, sales and auctions throughout the United States. Prices vary in different locations because of local economic conditions. ¢ Souvenir pill box, New Orleans Superdome, glass, goldstone metal overlay, 1960, 2 inches, $25. ¢ Arts & Crafts Morris child's chair, oak, four-spindle backrest and sides, adjustable back with metal rod, cushion seat, c. 1912, 31 inches, $175. ¢ Donald Duck tea set, white ground with image of Donald, teapot, sugar and creamer, four cups and saucers, Walt Disney Prod., Occupied Japan, $195. ¢ "Charade" movie poster, Cary Grant and Audrey Hepburn, 1963, 14-by-36 inches, $230. ¢ Shaker stool, maple, tape seat, eight stretchers, Mount Lebanon, N.Y., c. 1880, 16-by-13 inches, $810.
Copyright 2018 The Lawrence Journal-World. All rights reserved. This material may not be published, broadcast, rewritten or redistributed. We strive to uphold our values for every story published.