Chicago — One of the most remarkable figures in NBA history came to the United Center on Wednesday night when the Philadelphia 76ers visited the Bulls.
It's Allen Iverson, and not because of the career of iconic defiance, the tattoos, the hairstyle or the lifestyle.
Just what, 11 seasons and counting later, is this diminutive package of desire still doing here? He's just barely behind Carmelo Anthony for the NBA scoring lead at 31.2 points per game, working on his fifth season scoring at least 30 per game.
That would put him in the elite offensive company of Michael Jordan and Wilt Chamberlain.
Jerry West didn't average 30 per game five times. Neither did Kareem Abdul-Jabbar, Elgin Baylor, Larry Bird, Karl Malone, Bob Pettit, Hakeem Olajuwon, Moses Malone or Pete Maravich, the greatest scorers in the game. And every one of them is quite a bit taller and heavier than Iverson, listed generously at 6 feet and about 165 pounds.
"It's amazing his career has extended itself as it has," said Bob Cousy, regarded by many as the best little man to play the game. "The way he ends up on the floor and keeps going - he's a tough kid. It's one of the things I respect most about him, like a kid I had with me in Kansas City, Tiny Archibald. He'd go in and slash and penetrate.
"Coaches tell you (if you're small) not to try to get the shot off, but go in and try and create contact and knock the big guy off balance. But there are not too many 6-footers who want to go into the monsters. Archibald did it. Iverson does it."
It's not a happy time these days for Iverson and his 76ers. They have lost 12 of their last 14 games and can be considered in a desperate state already. They've moved small forward Andre Iguodala to point guard to handle whatever ballhandling Iverson might not do. They've been wrestling with a role for Chris Webber, who has returned after a bout with back problems and often doesn't play in the fourth quarter because of issues with his defense.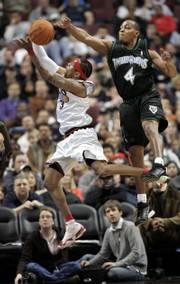 Iverson is shooting 41.3 percent, 21.2 on three-pointers, which is lower than his poor career averages of 42.1 and 30.9.
Yet before Wednesday night, the last time the Bulls lost was in Philadelphia, when Iverson hit them with 46 points and 10 assists on Nov. 24. He had missed the previous two games because of dental surgery.
I ran into Iverson on the 76ers' Western Conference road trip before that. He had spent the day in the dentist's chair and was considered doubtful for the game against the Suns. But he played 39 minutes and scored 23 points with eight assists. The next night he had 29 points and nine assists in 49 minutes in an overtime loss to the Clippers.
He still doesn't adhere to the NBA's latest fashion demands, wearing jeans that could accommodate a small family and headgear facing various directions. But the enormous iceberg of institutional disdain on his shoulder seems mostly melted away, even if he still doesn't much like practice. He had a dust-up with coach Maurice Cheeks last week, left practice early and skipped a mandatory team function, later apologizing.
He remains mostly approachable and thoughtful, if a little frustrated with his team's play after off-season talk he'd be traded.
"I feel I am the best little man in the league, simple as that," he said when asked about his place. "I'm blessed because a lot of people said I would never make it to this stage of my career the way I play. I've got a lot of critics, but God judges when it's time to go. That's when I'll leave.
"I'll know it because I'll feel it," Iverson said. "My production will go down and I won't be able to do the things I can do on a basketball court. If injuries get to a point where I can't do it night in and night out, if people have the scouting report on the board and my name is not mentioned, that's when it's time to go. I'll know it's my time and I won't feel bad about leaving."
Copyright 2018 The Lawrence Journal-World. All rights reserved. This material may not be published, broadcast, rewritten or redistributed. We strive to uphold our values for every story published.