Lake Buena Vista, Fla. — The Kansas City Royals agreed to terms with right-hander Gil Meche on a five-year deal worth $55 million Thursday as baseball's winter meetings neared a conclusion.
Meche has a 55-44 career record with a 4.65 earned-run average in 147 games, all of them with the Seattle Mariners.
"We were proud to be a part of the process and delighted that Gil Meche made the decision to join the Royals," general manager Dayton Moore said. "He is an impact pitching talent who fits in with our plan for long-term success. At 28, he is entering the prime of his career."
Meche was 11-8 with a 4.48 ERA and career highs of 1862â3 innings and 156 strikeouts in 32 starts for Seattle in 2006.
Altogether, the Royals appeared to upgrade their pitching staff with a flurry of activity. Earlier Thursday, they selected Joakim Soria, a right-handed pitcher from the Triple-A Portland roster of the San Diego Padres organization, with the second pick in the Rule 5 draft.
The Royals also released right-hander Runelvys Hernandez, who has battled weight problems and inconsistency.
On Wednesday, Kansas City obtained Brian Bannister, a right-handed starter, from the New York Mets in exchange for underperforming right-hander Ambiorix Burgos.
The Royals hope Bannister has fully recovered from an injury that put him on the 60-day DL his rookie season.
Meche, who must pass a physical for the deal to be completed, will receive a $2 million signing bonus along with a $7 million salary in 2007, $11 million in each of the next two years and $12 million each in 2010 and '11.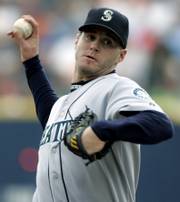 "We really didn't have any reservations about a fifth year," Moore said. "We expected it really all along because of his age and what the market is demanding right now, and what the competition is willing to pay. We expected to go to a fifth year, and we talked a lot about it internally.
"He fits into our plan for long-term success. He was the youngest guy out there available with the best stuff."
Hernandez, who struggled with conditioning and inconsistency, was 6-10 last season with a 6.48 ERA in 21 starts.
"We feel great," said Moore, who was appointed general manager last summer. "We feel like we've accomplished quite a bit. Have we accomplished every one of our objectives? No. But we were successful in doing what we needed to do thus far. We're continuing to pursue other players and look for other opportunities to get better."
Soria, 22, spent most of the 2006 season with the Mexico City Reds in the Mexican League. As the team's closer, he had 15 saves and a 3.65 ERA.
The 6-foot-3, 185-pounder is now pitching for Obregon in the Mexican Winter League and has an 8-0 record and a 2.02 ERA in 10 starts. He originally was signed by the Los Angeles Dodgers in 2001 as a nondrafted free agent.
"Soria is a young, talented pitcher with a real feel for pitching who we've been following this winter," Moore said.
"He'll compete for various roles on our pitching staff. Starter, reliever. I think he's versatile enough to do a variety of things. He's having a tremendous season in winter ball."
Copyright 2018 The Associated Press. All rights reserved. This material may not be published, broadcast, rewritten or redistributed. We strive to uphold our values for every story published.