Trent Green has heard the criticism that the NFL goes too far to protect its quarterbacks. His response?
The league needs to go a little further.
As Green and his Kansas City Chiefs teammates prepare to host the Baltimore Ravens on Sunday, Green spent a considerable portion of this week's conference call with the local media that covers the Ravens discussing the head-pounding hit that knocked him unconscious with a severe concussion in the season opener.
And one of the points the 13-year quarterback emphasized was the necessity of strengthening policies designed to preserve today's quarterbacks.
"I think sometimes there's a little bit too much criticism for protecting the quarterback, but we're pretty vulnerable in some of the positions that we're put in," Green said.
Case in point: the blow Green took from Cincinnati Bengals defensive tackle Robert Geathers on Sept. 10.
Green said he thought he was doing the right thing when he slid feet first after a scramble. But officials on the field did not penalize Geathers for the hit, and neither did the league.
"It's frustrating because from the video, you can see there were two other players in the picture," recalled Green, 36, who initially could not drive a car because of the aftereffects of the concussion. "One pulled up and stopped and one actually dove over the top of me to avoid a hit. So I think it was avoidable. Obviously, it was within the framework of the rules because both the official and the league agreed on that. But I do know that it's something that's going to be reviewed in the offseason."
It would not be the first time that an injury to Green has played a part in a league review. During a preseason game in 1999, Green was lost for the season when then-San Diego Chargers strong safety Rodney Harrison hit the then-St. Louis Rams quarterback in his left knee, tearing his anterior cruciate ligament, medial collateral ligament and lateral meniscus.
This past offseason, the NFL - perhaps swayed by a similar injury suffered by Bengals quarterback Carson Palmer in a playoff game against the Pittsburgh Steelers last season - ruled it illegal to hit quarterbacks in the knees.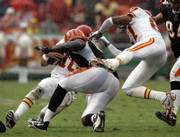 "One of the examples they showed during their introduction of the new rule was my hit," Green said. "So hopefully it won't take six years to change the rule about the slide thing, but hopefully there can be some clarification in terms of the ruling so that the quarterbacks better understand when they need to go down."
Green, who missed eight consecutive games this season, returned for the Nov. 19 contest against the Oakland Raiders, but Coach Herm Edwards forged a conservative game plan.
Green threw just 16 passes, completing nine for 102 yards in a 17-13 victory, and went 13-for-22 for 161 yards in a 19-10 win against the Denver Broncos four days later.
Last Sunday, however, Green looked like his old self, completing 24 of 32 passes for 297 yards and four touchdowns. Although Edwards said he didn't expect Green to average 35 passes per game for the remainder of the season, the coach noted what the presence of a healthy Green does for the offense.
"That helps you become two-handed rather than one-handed," Edwards said. "This was one of his best games so far this year. I thought he threw the ball well, made some pretty good decisions and we moved the ball fairly well. Now it's going to be awfully tough against the Ravens' defense because they don't give up a lot of points and they're very, very tough to move the ball against."
Green has the enviable assistance of running back Larry Johnson (1,312 yards and 13 touchdowns), but should anticipate a healthy dose of blitzing, according to Ravens linebacker Bart Scott.
"It's going to be huge for us to get pressure on him," Scott said. "Maybe he'll sail some balls to us. I'm sure they'll try to do a great job of protecting him, and it's going to be our job to try and get pressure on him and get him to move his feet. And when we have an opportunity, lay a good, solid hit on him."
Copyright 2018 The Lawrence Journal-World. All rights reserved. This material may not be published, broadcast, rewritten or redistributed. We strive to uphold our values for every story published.