Kansas City, Mo. — Jay McShann, an internationally recognized giant of Kansas City jazz, died Thursday. Books, official records and other sources disagree on his date of birth, but he was thought to be 90.
The legendary bandleader and composer was one of the city's last living links to its glory days as a jazz town.
"Jay is the last of his generation," said jazz historian Chuck Haddix, co-author of "Kansas City Jazz: From Ragtime to Bebop." "His passing really marks the end of an era."
McShann reportedly had been feeling well and enthusiastic about music in recent months. Within the past few weeks he had granted an interview to a correspondent working on a jazz documentary for the BBC. But he was admitted to St. Luke's Hospital on Nov. 27 because of breathing problems.
With a performing career spanning more than 70 years, McShann established himself as a versatile musician who was equally comfortable with the blues, ballads and bebop. His piano technique revealed a delicate and sophisticated sensibility, but he could pound out driving blues and boogie-woogie in the best tradition of barrelhouse piano players.
'Touching history'
"I think he served as a bridge between swing and bebop," said saxophonist Bobby Watson. "He was open to young people coming with new ideas that weren't traditionally thought of as swing. He was really a man with an open mind to all styles of music."
Watson, who had performed with McShann periodically through the years, said sharing the stage with McShann was "big fun. Just the flavor and the swing and the voicings, his blues sensibility - it's like being in heaven. It's like I'm touching history."
McShann also possessed a rich singing voice that brought out the poetry in such standards as "Georgia" and gave authority to blues numbers, such as his own "Hootie's Ignorant Oil."
McShann was born in Muskogee, Okla., where he taught himself to play piano by ear. It was only after years of performing and leading a nationally known band that included the young Charlie Parker that McShann decided to take lessons to read music.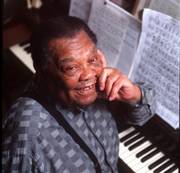 McShann was on his way to Omaha, Neb., when he stopped off in Kansas City in 1936 and discovered the city's smoking jazz scene.
Kansas City jazz scene
Musicians gravitated to the city from all parts of the country during the 1920s and '30s, attracted by the jobs created by the proliferation of gambling joints, dance halls and ballrooms. McShann said it paid to learn as many styles as possible.
"If you wanted to learn, you could learn," he said. "If you played a gambler's tune, that was a money tune. ... This was a hustlin' town. Everything's a hustle. That was another thing that made musicians keep up. They had to learn a lot of tunes because it meant money."
McShann, backed by a wealthy Kansas City insurance man named Walter Bales, formed a big band in 1939. Among the players was the young saxophonist Charlie Parker, who was with the band when it cut its first records in Dallas in 1941. Thanks to a record producer who insisted that the band record only blues and boogie-woogie, McShann's band became known principally as a blues band. In fact, the band had arrangements that prefigured the modern strain of jazz that would become known as bebop.
Yet those sessions established McShann nationally because one cut, "Confessin' the Blues," became a national hit.
Draft pauses career
In 1944, McShann's big-band career came to an abrupt halt when Selective Service agents literally drafted him off the stage of Municipal Auditorium and inducted him into the Army. The band book, containing the arrangements, was lost.
After World War II, McShann put together another big band, but the business had changed. A big touring band was too expensive, and McShann had to settle for playing in small groups.
After a stint in California, McShann settled in Kansas City permanently in the early '50s. Although he was never forced to take a day job, he once ran a trash-hauling service and owned a limousine that he rented out.
In the '60s, McShann began touring as a solo act and frequently performed with small groups, setting the pattern for the rest of his professional life.
In his later years McShann rarely played in Kansas City, mainly because he was in demand around the world.
In 1992, he was nominated for a Grammy in the Best Large Jazz Ensemble category for his album "Paris All-Star Blues (A Tribute to Charlie Parker)."
In 1988, McShann's music was introduced anew when choreographer Alvin Ailey created "Opus McShann," a series of dance pieces set to some of McShann's recordings.
In addition to appearing in "The Last of the Blue Devils" (1980), which captured a reunion of old-time Kansas City musicians, McShann was the subject of another film, "Hootie's Blues." He was one of many noted jazz figures interviewed for "Jazz," the Ken Burns documentary miniseries for PBS. And McShann was featured in "Piano Blues," a 2003 documentary directed by Clint Eastwood that was part of another PBS series called "The Blues."
McShann is survived by three daughters, Linda McShann Gerber, Jayne McShann Lewis and Pamela McShann, and his longtime companion and manager Thelma Adams, known to many as Marianne McShann.
Copyright 2018 The Lawrence Journal-World. All rights reserved. This material may not be published, broadcast, rewritten or redistributed. We strive to uphold our values for every story published.