London — A former KGB agent was buried Thursday in a rain-swept London cemetery, his grave surrounded by Russian emigres and his body sealed in a coffin to prevent further contamination by the radioactive substance that killed him.
But the drama of Alexander Litvinenko's death was not over. Whoever dosed him with polonium-210 appears to have left a lengthening trail of victims.
Seven employees at a London hotel where Litvinenko met businessman Dmitry Kovtun the day he fell ill have tested positive for low levels of polonium-210, Britain's Health Protection Agency said Thursday. Russian officials said Kovtun has developed an illness connected with polonium-210.
The seven employees are not likely to suffer short-term health problems, a Health Protection official told BBC Television, but the poison could cause "a very slight increase" in their risk of health problems over the long term.
The agency said the seven were working at the Millennium Hotel's wood-paneled Pine Bar on Nov. 1, the day Litvinenko became sick. He died Nov. 23.
Among the others contaminated by the poison is Mario Scaramella, an Italian security consultant working with the Italian parliament who also met the Russian on Nov. 1 in London.
Scaramella was found to have significant quantities of polonium-210 in his body and there are concerns for his health, but he has not developed symptoms of radiation poisoning.
Marina Litvinenko, the agent's wife, also received a dose of the poison, but doctors say it was not enough to make her sick.
The agent's widow was among 50 family and friends who gathered to pay tribute to him Thursday in an isolated section of historic Highgate Cemetery.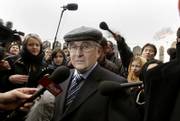 The former Soviet spy was buried near the grave of Karl Marx, the father of communism.
As cold rain splashed on Victorian-era tombs and mausoleums, Litvinenko's large dark oak coffin was lowered into a grave.
His casket was sealed throughout the burial ceremony, on the advice of Health Protection Agency.
Officials said the contaminated body posed no risks if buried, but warned the family would have "to wait 22 years for the radioactive material to decay" if they wanted to cremate the remains, friend Alex Goldfarb said.
Even the funeral was tinged with controversy.
Litvinenko's father said his son had converted to Islam before he died, but his family asked for a non-denominational ceremony. Despite this, an imam appeared uninvited and performed rites at the burial, Goldfarb said.
"Unfortunately some people appeared and against the explicit wishes of the widow performed Muslim rites over the funeral ... let God be their judge," Goldfarb said.
The burial followed a service at Regent's Park Mosque, where traditional Islamic funeral prayers were said. Litvinenko's father Walter and Zakayev also mourned at the mosque.
Copyright 2018 The Associated Press. All rights reserved. This material may not be published, broadcast, rewritten or redistributed. We strive to uphold our values for every story published.