Nashville, Tenn. — Vince Young scored on the Indianapolis Colts with his arm. He tore them apart with his legs.
The Tennessee rookie scrambled nine times for 78 yards. Seven of those picked up first downs, and six came on third down. He looked for an open receiver, then didn't hesitate to take off if everyone was covered.
And yes, he's proving just as elusive in the NFL as he was at the University of Texas.
"This is as good a tackling defense as you'll find in space, and he made people miss," Titans coach Jeff Fisher said of the Colts. "I think that kind of gives you an idea to what kind of runner he is."
Young has run for at least 49 yards in each of the Titans' last three games, all wins in their longest streak since the end of the 2003 season. The No. 3 pick overall in the draft has run 62 times for 372 yards, much better production than Reggie Bush, who was taken one spot ahead of him (119 for 368).
Mobility has been a big help for a quarterback who just topped 50 percent pass completion percentage. It's not coincidence that his two best passing performances have been in the past two games, where he has run the most (19 times for 147 yards).
"A lot of people think I'm just taking off running," Young said. "At the same time, the guys are doing a good job covering routes downfield. ... Instead of taking my checkdowns, I've been telling T-Hen (Travis Henry) and LenDale (White), those guys to turn around and make a couple blocks."
That has opened up the field for the rest of the rushing offense. The Titans are averaging 165.5 yards rushing the past eight weeks, and Henry said it has helped having a spy on defense - a player focused on following Young.
The Titans (5-7) are relying on Young's instincts to tell him when to scramble. He ran for 3,127 yards at Texas, a performance capped with 200 yards on the ground in the national championship game in January.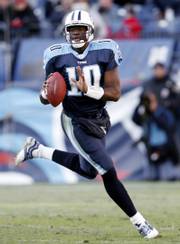 "If he drops back, nobody's open and he sees certain coverages and realizes he can run it, he needs to go," offensive coordinator Norm Chow said. "He's doing that pretty well right now."
The Houston Texans (4-8) must try and slow down Young on Sunday. He ran four times for 44 yards in beating them 28-22 on Oct. 29 in Nashville - his fourth career start.
Coach Gary Kubiak noticed how effective Young was against the Colts on third down. Young was responsible for six of the Titans' eight converted third downs.
"In this league, that is what you want your quarterback to do. You have to be able to keep us on the field and make some plays on third down, and that's what he's been doing for his team," Kubiak said.
The Texans are allowing 116 yards rushing per game. Texans safety Glenn Earl compared Young to Randall Cunningham for his long strides and size.
"A lot of times, the challenge is to stay in coverage and not come off the receivers too quick. He's a weapon. He's like a running back back there," Earl said.
They also see Young doing things that worked well for him in college and be creative on the fly. But running, and the constant threat that he could, isn't easy on a defense.
"It's been a big problem for a lot of teams that have been playing against him," Houston linebacker DeMeco Ryans said. "You get them in third-and-short, and you think he's going to drop back and throw the ball, but everyone's covered and he takes it down and runs for the first down. It's going to be pretty tough for us."
Copyright 2018 The Associated Press. All rights reserved. This material may not be published, broadcast, rewritten or redistributed. We strive to uphold our values for every story published.