Los Angeles — At this time last year, Mary J. Blige was at a career crossroads.
She was about to release a new album of material after her previous effort met with disappointing sales. There were whispers that after 12 years in the business, the Queen of Hip-Hop Soul was losing her throne to younger artists.
But on Thursday, the Recording Academy reconfirmed Blige's place in music royalty, showering her with eight Grammy nominations, including record and song of the year for her hit "Be Without You," off her album "The Breakthrough."
Other multiple nominees included the Red Hot Chili Peppers, who had six, and the Dixie Chicks, who had five. Nominees for album of the year were Gnarls Barkley's "St. Elsewhere," Justin Timberlake's "FutureSex/LoveSounds," John Mayer's "Continuum," the Dixie Chicks' "Taking the Long Way" and the Red Hot Chili Peppers' "Stadium Arcadium."
Blige's album sold more than 2 million copies and won the singer armloads of awards, including nine Billboard Awards and two American Music Awards.
"That's a beautiful thing, that I'm still going," Blige told The Associated Press. "'The Breakthrough' is about triumph, about not being a victim, but being a victor. It's about loving yourself."
Blige wasn't the only one celebrating a comeback. The Dixie Chicks' five nominations - including record, song and album of the year - marked a triumph for a group that weathered boycotts from the country music establishment and a drop in album sales after lead singer Natalie Maines criticized President Bush in 2003.
"Taking the Long Way," produced by Rick Rubin, found the trio leaning more toward rock and was mostly ignored by country music radio. But the defiant album still was a best-seller, yielding the hit "Not Ready to Make Nice."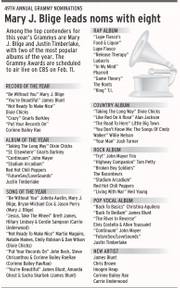 Rubin, who scored five nominations, including producer of the year, said he hopes Grammy notice will bring more attention to the Chicks' album.
"They really kind of reinvented themselves and they clearly had a lot to talk about," said Rubin, 43. "It's a beautiful album ... and because of things that had nothing to do with music, it felt like it didn't get the chance it deserved."
Rubin also produced the Red Hot Chili Peppers' critically acclaimed double CD, "Stadium Arcadium." The veteran rockers were nominated for rock album and album of the year, and the song "Dani California" was nominated for best rock song and rock performance by a duo or group.
Mayer, already a three-time Grammy winner, collected five nods altogether, including pop vocal album and best rock album for "Try!" with his blues trio.
Gnarls Barkley - the duo of producer Danger Mouse and rapper/singer Cee-Lo - earned four nominations, including record of the year for the smash hit "Crazy." Timberlake, a two-time Grammy winner, captured four nods, too.
The 49th Grammy Awards are scheduled to air live on CBS from the Staples Center on Feb. 11.
Copyright 2018 The Associated Press. All rights reserved. This material may not be published, broadcast, rewritten or redistributed. We strive to uphold our values for every story published.