David Poole
David Poole covers NASCAR for The Charlotte (N.C.) Observer
Best driver: Kevin Harvick. Jimmie Johnson had a tremendous year, but Harvick won 14 races in NASCAR's top two series. He ran away and hid to win the Busch Series title and was in the championship mix in the Nextel Cup right until season's end.
Best race: The best thing that could happen to NASCAR would be more racing like the side-by-side battle Jeff Burton and Matt Kenseth staged late in the Dover 400. Burton's return to Victory Lane after a long absence made this one special, too.
Most appropriate coincidence: David Gilliland won a Busch Series race at Kentucky Speedway and was instantly transformed from a driver hardly anybody had ever noticed to The Next Big Thing. The race team for which he drove to that magical victory? Hype Manufacturing.
Wish I'd said that: "I miss the days when I'd look up and see Brooks & Dunn and the other country stars here. Dale Earnhardt died and Dale Jr. came in and all of a sudden it went to acid rock and then we went to Hollywood. Then we went to marketing to the 20-year-old kids." - Rusty Wallace, at Daytona on the five-year anniversary of Earnhardt's death.
Worst excuse: One Nextel Cup driver said comments he made in an interview had been "taken out of context" on Thatsracin.com, despite the fact that the Web site carried a transcript of the entire interview.
Jim Utter
Jim Utter covers NASCAR for The Charlotte (N.C.) Observer
Best driver: Kevin Harvick. A Busch Series championship and nine wins. Qualified for his first Chase, won five races and finished fourth in points. Jimmie Johnson won the battle, but Harvick won the war.
Best race: UAW-Ford 500. The fall Talladega race featured a controversial, dramatic last-lap wreck ending with Brian Vickers turning his teammate Johnson and leader Dale Earnhardt Jr. and spawned a popular YouTube video.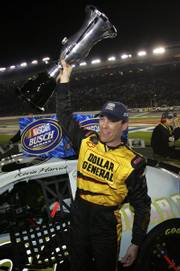 Comeback of the Year award: Jeff Burton. He is always a popular interview, and it was nice change getting to talk to him about his performance on the track rather than such gripping topics like safety innovations.
Worst NASCAR excuse for bad TV ratings: The baloney that NBC didn't do enough to promote its races. With a sport that trumpets 75 million fans, did they all forget races are on Sunday?
Best "you-had-to-hear-it-to-believe-it" moment: Dale Earnhardt Jr. actually getting drowned in boos after wrecking Carl Edwards to win the Busch Series race at Michigan in August.
Sarah Rothschild
Sarah Rothschild covers NASCAR for The Miami Herald
Best driver: Kevin Harvick. Although he finished fourth in the Cup standings, his feats in both the Cup and Busch Series were impressive. He had five Cup wins and nine Busch series victories. He finished with the largest lead in Busch history, a whopping 824 points ahead of second-place driver Carl Edwards.
Best race: UAW-Ford 500. Brian Vickers' last-lap spin of Dale Earnhardt Jr. and Jimmie Johnson at Talladega Superspeedway proved to be arguably the most dramatic moment of Chase for the Cup and the season.
Best quote: "I feel like the chimp that gets to fly the rocket." - Boris Said, after winning the Pepsi 400 pole.
Biggest reason for NASCAR to take pause: Television ratings were down in 32 of 36 races and empty seats were apparent. NASCAR doesn't release attendance figures but less than half of the races sold out.
Best 15 minutes of fame: Unheralded David Gilliland winning the Busch race at Kentucky Speedway on June 17. He became the first non-Cup regular to win a Busch a race in 2006 and the buzz afterward from his victory helped him land a full-time Cup ride at Robert Yates Racing.
Worst NASCAR move: The Car of Tomorrow hasn't even run in a race, but the universal car slated for debut in March 2007 has been a public relations disaster. Two-time champion Tony Stewart went so far as to call it a "flying brick," and Jeff Gordon characterized it as "ugly."
John Sturbin
John Sturbin covers NASCAR for the Fort Worth (Texas) Star-Telegram
Best driver: Jimmie Johnson. Tony Stewart and Kevin Harvick fans will disagree, but the first-time series champion won the Daytona 500, Brickyard 400 and led the Chase for the Nextel Cup in top fives (5), laps-led (486) and bonus points (50).
Best race: UAW-Ford 500, Talladega Superspeedway. Running third, Brian Vickers (inadvertently) took out race-leader Dale Earnhardt Jr. and then-Hendrick Motorsports teammate Jimmie Johnson to record his controversial first Cup victory.
Best quote: "Just because I stayed in the (No.) 6 car 19 years doesn't make it wrong for me to move on, it just makes it weird. As far as I'm concerned, I'll always be No. 6, and I think a lot of people will feel the same way." - Mark Martin, on ending his career at Roush Racing.
Best 15 minutes of fame: Juan Pablo Montoya. The former Formula One and Indy-car star generated tons of interest with his initial Cup series debut. Imagine the international hysteria when Montoya wins that inevitable first pole and race in 2007.
Biggest reason for NASCAR to take a pause: The sky is not falling, but NASCAR's TV ratings nose-dived in 2006. If NASCAR chairman/CEO Brian France thinks switching to ABC/ESPN will offer a quick fix for that, he's in denial.
Copyright 2018 The Lawrence Journal-World. All rights reserved. This material may not be published, broadcast, rewritten or redistributed. We strive to uphold our values for every story published.