LITTLE ROCK, ARK. — Four months ago, the Heisman Trophy was the farthest thing from Darren McFadden's mind.
The season was still a month away - if he was lucky, that is. McFadden had dislocated his toe in a fight outside a Little Rock club, and he wasn't sure when he'd be back on the field.
"There was a point I got so down on myself I didn't know if I would be able to play because of the different things people were telling me," the Arkansas running back said this week. "So going into the season I didn't know what to expect. I didn't think any of the things I have been doing were possible, and I'm just really thankful."
McFadden returned quickly, and his preseason mistake was quickly forgotten around Arkansas, where he's led the No. 12 Razorbacks to their best season in years. Now, McFadden is a Heisman finalist, another highlight in a remarkable season for both him and his teammates.
He'll join Ohio State quarterback Troy Smith and Notre Dame quarterback Brady Quinn in New York on Saturday for the trophy presentation.
McFadden has rushed for a school-record 1,558 yards this season, but the numbers don't tell the whole story.
"You kind of get numb to it. You expect him to make unbelievable plays," Arkansas offensive coordinator Gus Malzahn said. "But each week there's one play that you just go, 'That's not right."'
McFadden is strong enough to grind out extra yards after contact, but it's his breakaway speed that has earned the most attention. Once he's in the open field, he becomes a nightmare for defensive backs, who are often helpless to catch him no matter how good their angles.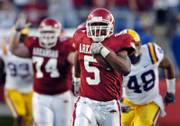 And over the last few weeks, the nation has learned something truly terrifying: McFadden, an occasional quarterback in high school, can throw. The Razorbacks have used him at quarterback a bit - where he can either run, pass or hand off to Felix Jones, Arkansas' other 1,000-yard back.
McFadden has thrown three touchdowns in eight pass attempts this season. He's also scored on a 70-yard screen pass and a 92-yard kickoff return.
"Just about every game he amazes everybody with something that he pulls," quarterback Casey Dick said. "Sometimes we ask him to throw the ball, he can throw it. He can run it, make people miss. He's just a complete back that can do everything."
McFadden grew up watching the Razorbacks and went to high school in the Little Rock area. He made an immediate impact at Arkansas in 2005, rushing for 1,113 yards and earning Southeastern Conference freshman of the year honors.
His high hopes coming into this season were momentarily derailed when he injured his toe in the wee hours one July morning.
"I knew I was hurting myself and hurting my teammates by not being able to practice and prepare with them," McFadden said. "It was just real tough for me."
But McFadden has always been able to fight through pain - he played the entire 2005 season with a small cartilage tear in his knee. He was back for this year's opener, a 50-14 loss to Southern California.
Arkansas (10-3) won 10 straight after that loss, and the Razorbacks won seven SEC games for the first time since joining the league before the 1992 season. Arkansas will face No. 6 Wisconsin in the Capital One Bowl on New Year's Day.
Coaches insisted McFadden's preseason incident was out of character - and he's backed up those claims ever since. Quick to credit his offensive line, McFadden sounds relieved about his recovery from that summer injury and grateful for his increasing recognition.
The only hint of controversy lately has involved his touchdown celebrations - earlier this season, McFadden would raise his arms and flex immediately after crossing the goal line. Officials frowned upon that, and coach Houston Nutt told McFadden to cut it out. It hasn't been an issue since.
McFadden isn't favored to win the Heisman - no sophomore ever has. But the exposure this year should make him a front-runner heading into 2007. And nobody, least of all his coach, seems to begrudge him all this attention.
"He doesn't say that much about it, and of course he's so unselfish and he gives all the credit to his offensive line, tight ends, fullbacks, those guys," Nutt said. "If anything, it's brought our team closer together.
"First time in a long time someone is talking about a Heisman Trophy candidate from the University of Arkansas."
Copyright 2018 The Associated Press. All rights reserved. This material may not be published, broadcast, rewritten or redistributed. We strive to uphold our values for every story published.