It's the holidays. You have gifts to buy, menus to plan, guest rooms to tidy.
The last thing you need is wardrobe stress.
But, invariably, with the flood of holiday party invitations comes an unwelcome dilemma: What will you wear?
Now - amid the seasonal spending frenzy - is hardly the time to splurge on a new outfit for each gala requesting your presence. So before you panic, think practical and remember the utility player in every woman's closet: the little black dress.
Sure, it's almost cliche, but that's because it really does work for every occasion.
And that includes holiday parties. Multiple holiday parties, in fact.
In the spirit of giving, we consulted local experts to offer at least eight different ways to reinvent that magical garment so you can coast through the party season looking fabulous time and again without blowing the money you're supposed to be spending on others.
1. That's a wrap. These garments can infuse a splash of color while disguising your least favorite features and adding much-needed warmth to skimpier dresses. "Wraps are really big right now, and you can really do some wonderful things with the way you drape them," says Katie Becker, assistant manager at Chico's, 643 Mass.
Larger wraps - in prints and solids - can cover the entire torso, completely changing the style of a dress. Tie the wrap front and center for a more conservative look, or at one shoulder for asymmetrical flare. Secure it with a brooch for extra glitz.
2. Scarf it down. Similar to wraps but smaller in scale, a scarf can add drama to your neckline. Leave it hanging loose for a wispy, whimsical look, or knot it for more formal occasions. Feeling zany? Tie back your hair with a sash, or wear it as a belt.
3. Shine with jewelry. "You can totally mix it up with necklaces," says Kate Furst, an employee at Wild Man Vintage, 939 Mass., who recommends pairing short, plastic pieces in bright colors with longer chains in silvers and golds. "If you wear like four or five of them, it can really dress something up."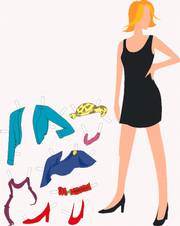 4. Belt it out. No matter the cut or style of the dress, it's almost always possible to change it up with a stripe of color at the waistline. You can use an actual belt; they now come in enough styles to fill entire aisles at department stores. Or get creative with a scarf, ribbon or men's neck tie. Worn low, belts elongate the torso. Higher up, they lengthen your legs. They also can be used in combination with the aforementioned wrap to create a tucked-shirt look.
5. Brooch the subject. These ornamental pins are all the rage these days, so they're easy to find in places other than your grandmother's jewelry box - although that's a great place to look, too. From chunky plastic flowers to jewel-encrusted dragonflies, the right brooch can add an exclamation point to any plain-Jane dress.
6. Blazer glory. Jackets can dress up or tone down a look, making them a perfect tool for carrying an outfit from the daytime workplace into an evening soiree. Paired with a full-length corduroy blazer, your dress becomes professional chic, while velvets and shinier fabrics gussy it up for seasonal festivities. "Especially like a really short, cropped jacket works well for a holiday party," Furst says. "Also, short fur jackets are really hot with black dresses."
7. Hat's off. "I really don't understand why hats went so out of style 30 years ago," Furst says. "Especially this time of year with the wind, you get your hair all done and you walk outside and it just goes away. A good way to prevent that is to wear a really nice hat, pinned in."
Wild Man Vintage owner Phil Chiles notes that headgear is a good way to stand out in the crowd. "We have a white rabbit fur hat," he says. "You don't see that very often."
8. Pump up the volume. Matching is all fine and good, but why not try ditching those black shoes for a pair of lipstick-red stilettos - or something more practical, just not black. "Even if you're wearing a very simple black dress," Furst says, "the shoes will make it come alive."
Of course these drama boosters don't have to go solo. They can also be used in tasteful combinations. The best part: You might have most of these items on hand already. And if you don't, one trip to a discount or vintage store could turn up some easy bargains.
"When you think about it, your everyday clothes is where you should invest your money," says Becker, of Chico's. "You should probably try to save on your holiday attire, especially if you wear something really splashy. Black is always safe."
Copyright 2018 The Lawrence Journal-World. All rights reserved. This material may not be published, broadcast, rewritten or redistributed. We strive to uphold our values for every story published.