It's not just kids who make a lot of noise at Cordley School.
At least on Sunday, about 200 adults did too as they gathered to celebrate the 90th anniversary of the school, 1837 Vt. Most were making noise sharing old memories.
For Patty Carlos Koehler, all the memories were fond ones.
"It was just a fun place," said Koehler, who began at Cordley in 1929. "I don't remember anything bad about it, not even my grades."
Cordley is the city's oldest elementary school. Principal Kim Bodensteiner estimated about 200 people showed up for Sunday's celebration, which was the first major one for the school since it had turned 75. Bodensteiner said several alumni of the school had called asking for advice on how to get in touch with old classmates, so district leaders decided to have another birthday party.
Superintendent Randy Weseman, who gave a brief talk at the party, said the community was celebrating more than just the age of a building.
"A school is not just bricks and mortar," Weseman said. "It is about the people who are here and the people who have been here. This is still a building that works very well. You should just see the test scores that come out of here."
Participants at the celebration - which featured cake, a rendition of "Happy Birthday" and presentations about the school's history - were optimistic about what's ahead for Cordley.
Photo Gallery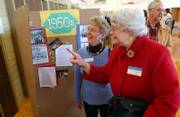 Cordley celebration
"I think schools like this still have a future," said former school board member Austin Turney, who fought efforts three years ago to close the school.
Turney said he thought the number of nearby homes being converted into rentals - which has caused a decrease in the number of students for Cordley - had begun to slow.
"I think we have gotten to the point where the numbers are going to start staying steady," Turney said.
More about Cordley Elementary School and its namesake
Copyright 2018 The Lawrence Journal-World. All rights reserved. This material may not be published, broadcast, rewritten or redistributed. We strive to uphold our values for every story published.