Washington — There are many forums a potential Democratic presidential candidate ordinarily might pick for a high-profile public appearance: a union hall, a black church, perhaps a teachers' convention.
Sen. Barack Obama, D-Ill., curiously, has chosen a suburban California megachurch, Saddleback Church, home base of pastor Rick Warren, whose best-selling "The Purpose Driven Life" helped make him one of America's leading evangelical ministers.
Obama will be on stage today with one of the Religious Right's favorite politicians, Sen. Sam Brownback, R-Kan., as he addresses more than 1,000 evangelical pastors and church leaders at a summit on AIDS organized by Warren.
His appearance at the evangelical summit is but one hint of the gathering potential many political and religious analysts see for a recalibration of the political loyalties of church-going Americans.
"Large portions of the religious landscape are in motion," said John Green, a senior fellow at the Pew Forum on Religion and Public Life.
Democrats narrow 'God gap'
Exit polls and voting returns in the midterm elections last month showed Democrats narrowing the "God gap" with Republicans among Americans who attend church at least once a week - even though the increased support came mostly from Catholic and mainline Protestant voters rather than evangelicals.
Frequent churchgoers still favored Republican over Democratic congressional candidates 55 percent to 43 percent, according to exit polls. But the 12-point difference is down considerably from a 19-point gap in 2004 and a 20-point gap in 2002.
At the same time, a number of prominent evangelical leaders recently have sought to broaden the movement's political agenda from traditional cultural issues of opposition to abortion and gay rights that favor Republican political positions to include concerns more associated with the Democratic agenda such as the environment, the AIDS epidemic and poverty.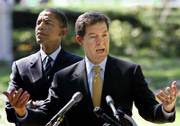 Evangelical discontent
The president-elect of the Christian Coalition, the Rev. Joel Hunter, senior pastor of a central Florida megachurch, just resigned this week because of conflicts with the group's board about his efforts to focus the group more on environmental and anti-poverty issues. Warren has been an especially powerful advocate for greater action on AIDS in Africa.
Other evangelical leaders, including Focus on the Family leader James Dobson, have fought vigorously to keep the movement focused on conservative cultural issues. But even some of them have grown discontented as years of one-party Republican rule in Washington provided disappointing results in furthering the conservative social agenda.
Party reaches out
Democratic political leaders, meanwhile, have been re-examining their party's relationship with religious voters, in some cases trying harder to incorporate the language of faith in their public rhetoric and broadening the party's views on abortion to include some determined abortion opponents among the new Democrats elected to Congress.
Obama has been a particularly powerful advocate among Democrats for reaching out to evangelicals and other religious Americans. He delivered a well-received speech in June advocating a greater role for religious values in political discourse and describing how his Christian faith helps shape his more liberal views.
Cohesiveness in danger?
The status of evangelical Christians as a rock-solid pillar of the Republican coalition could be endangered if influential pastors signal that Democratic candidates also have something to offer, said Mark Silk, director of the Greenberg Center for the Study of Religion in Public Life at Trinity College in Hartford, Conn. Likewise, the cohesiveness of the group - even this year, 72 percent of evangelicals voted Republican - could be diluted if ministers preach a moral imperative on a broader range of issues
"Lurking in the background are issues like poverty, the minimum wage and - who knows - health care might be around the corner. Evangelicals care about those issues like everyone else," Silk said.
Copyright 2018 The Lawrence Journal-World. All rights reserved. This material may not be published, broadcast, rewritten or redistributed. We strive to uphold our values for every story published.