The Free State High football team will return 22 seniors and field four future Division I athletes this season. You could say expectations are high.
Coach Bob Lisher feels the Firebirds have the potential for a successful showing this season, but need to establish more toughness on defense before their season opener against Friday against Leavenworth.
The Firebirds finished last season 4-6 and lost in the opening round of the Class 6A playoffs. Sunflower League coaches picked the Firebirds to finish second this fall during their annual preseason vote.
"This is definitely the best team since I've been here," senior quarterback Ryan Murphy said. "Especially since we have a lot more seniors, leadership and the experience coming back. That's the main factor of it; not even the four Division I players, just the senior experience."
Lisher said all that's left was to put the pieces to this rather talented puzzle together.
"I keep telling the guys, the main thing for us is to get our performance to match our potential," said Lisher, still the only head coach the program has ever known as it enters its 10th season. "We can't walk on the field and say, 'Well, we have these recruits and these guys returning.' We have to go out and prove why that potential is there."
Free State will run the spread offense again this season, utilizing the raw athletic abilities of KU recruits Ryan Murphy and his twin brother, senior running back Brian Murphy.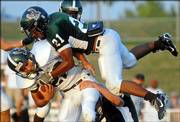 Tight end Christian Ballard, also a KU recruit, will be a crucial part of the offense. Lisher said Ballard, a senior, has displayed greater ability recently in practice in blocking schemes. Ballard has also shown tremendous dedication in the weight room during the offseason.
Arguably the biggest question mark on offense is at wide receiver. The Firebirds will be without the services of their top two pass catchers from last season, Nick Ayre and Brett Lisher.
Lisher said the Firebirds haven't developed a top receiver yet, but returning senior Clark Boatright and junior Craig Rosenstengle are the top threats. Senior Ben Harvey and junior Jason Sneegas will also figure into the mix. Lisher said he was particularly impressed with Rosenstengle's work ethic in the offseason.
"He was always at weights and always does what's expected of him, and has done a good job of it," Lisher said.
The offensive line has experience and depth. Seniors Mikel Ruder, a Wyoming recruit, Kyle Weinmaster and Jimmy Bruce will anchor the unit.
"When looking at years past, we've been ahead this year because of the experience we have returning," Lisher said.
On the opposite side of the ball, it's no secret Free State gave up a lot of points - 230 - last season. That was an average of 25.5 points per game in the regular season.
Lisher said the Firebirds would cure the problem by working on fundamentals and physical toughness in practice.
"We've done a few more drills where you try to get the technique right on tackling, exploding through tackles, and having the mentality to get to the football and make a tackle," Lisher said.
Ruder, also a defensive lineman, led the team in tackles last season. Lisher said he didn't want to solely rely on the 6-foot-4, 255 pounder to make tackles. After all, the Firebirds will also have Ballard and Weinmaster lining up on the defensive front.
Ruder remained humble when asked if he would shoulder the defensive load again this season.
"Having one tackle a game and winning would be fine with me," Ruder said. "As long as we're winning and we stop people from scoring, that's all that matters. It doesn't matter what I do at all, as long as I'm helping the team."
Seniors Jimmy Bruce and Andy Petz, and junior Mike Santee will lead the FSHS linebacking corps. That trio is being counted on to develop an image Lisher hopes will symbolize a revamped FSHS defense.
"We want this team to be more physically and mentally tough," Lisher said. "There have been times where we've been outhit and outplayed in the fourth quarter. We're doing everything in our power to let the kids know that's not going to happen this year."
The Murphys and Boatright will anchor the secondary.
On special teams, Free State must replace its punter from a year ago, Mike Vaugn, who was lost to graduation. Senior offensive lineman/defensive lineman Caleb Stephens has handled most of the punting duties in practice.
Sneegas will handle field goals, extra points and kickoffs.
The most exciting part of the special teams unit might be Ryan Murphy returning kicks and punts. Lisher chuckled when asked how exciting it was to watch Murphy in action, and said it's only during one specific instance.
"When he's running down the sideline," Lisher said, sarcastically.
Copyright 2018 The Lawrence Journal-World. All rights reserved. This material may not be published, broadcast, rewritten or redistributed. We strive to uphold our values for every story published.