Some people just call it the price to live in Lawrence.
A new Census Bureau report shows that Lawrence residents - even nonstudents - earn far less on average than residents in nearby Johnson County and significantly less than the statewide average.
Many Lawrence residents said they didn't need a new government report to tell them that.
"The technical jobs are in Johnson County, and those are the ones that pay the most money," said Larry Franklin Sr., a downtown barber. "I think the Lawrence community is just more of a hodgepodge of things when it comes to jobs."
But the new survey - which is part of a census project to study every community with more than 65,000 in population - shows how great the gap has become. In some cases, the difference is nearly the equivalent of a Johnson County resident receiving two paychecks for every one received by a Lawrence resident.
The survey found that a male Lawrence resident who works full-time on a year-round basis earned an average of $35,610 in 2005. That compared to an average of $67,349 for the same Overland Park resident and $57,034 in Olathe. The statewide average for such workers was $39,251.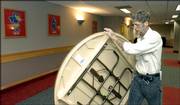 Females fare better
Lawrence ranked fifth out of the six Kansas communities that were surveyed. Kansas City was the lone community with a lower average income than Lawrence. Its average was $32,898.
The census report, by measuring only earnings of full-time workers, attempts to factor out the large number of university students who work for part-time wages in the city.
The report also looked at wages earned by female workers with full-time jobs. Like in every other Kansas community surveyed, females earned less than their male counterparts. In Lawrence, the average was $33,319. But compared with other communities, women fared better than Lawrence men did. The Lawrence female salaries were the third highest of those Kansas communities surveyed, trailing Overland Park and Olathe. The Lawrence female average, unlike the males' salaries, also was above the statewide average.
"I would say that is probably the influence of the university," said Xan Wedel, an information specialist with Kansas University's Institute for Policy & Social Research. "I think we have more higher-paying jobs for females through the university than communities that don't have a university."
Abundant work force
But Wedel said the reason Lawrence men make less than their counterparts in other communities also likely was a result of the university. She said Lawrence generally has a large number of graduates who stay in the community and are willing to work for entry-level wages because they do not have the experience to command higher-paying jobs.
Lavern Squier, president and chief executive officer of the Lawrence Chamber of Commerce, said the other "university town" factor that Lawrence is dealing with is that the salaries of so many of Lawrence's jobs are controlled by the Legislature rather than business owners. For the past several years, the state budgets have been tight, which has limited wage growth of state employees.
Double duty
KU workers on Wednesday said they definitely have noticed the effect of the lower wages. Jack Shane, a custodian for the university, said he's taken a second job as a bouncer at a local strip club because the pay is better.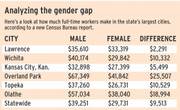 "If it wasn't for the benefits (offered by KU), I would work full-time," at the strip club, Shane said.
Squier said the report shows the need for Lawrence to continue efforts to attract high-tech, private sector jobs. Wedel said that has generally been the most successful strategy other university communities have used to boost wages.
Some Lawrence residents, though, were doubtful it would ever happen.
"Lawrence is very behind the times on wages," said Sharon Englebrecht, a former deputy treasurer for Douglas County. "We've always got punished because of all the university people."
She thought it would be difficult for Lawrence to ever overcome all the university community factors that keep wages down.
"I think that is probably just the type of community we are, unfortunately," Englebrecht said.
Franklin, the downtown barber, agreed it would be difficult to change. But he said he's not so sure that is a bad thing.
"You know what, instead of living in a $225,000 house, I live in a $170,000 house," Franklin said. "I don't think Lawrence really wants to change too much. We are a community where people still like to come spend money, we have a vibrant downtown that a lot of other communities don't have, offer a good education, and we're still just a nice place to live."
Copyright 2018 The Lawrence Journal-World. All rights reserved. This material may not be published, broadcast, rewritten or redistributed. We strive to uphold our values for every story published.