QUETTA, Pakistan — A memorial service for a tribal chief killed in a raid by Pakistani army troops descended into violence Tuesday as mourners hurled grenades at police and burned dozens of shops.
A bomb blast killed four factory workers at a restaurant as widespread unrest in the south following the death of fugitive tribal leader Nawab Akbar Bugti stretched into its fourth day.
More than 10,000 people attended the service at a stadium in the Baluchistan provincial capital of Quetta for Bugti, who was killed Saturday when heavy fighting caused his mountain hide-out to cave in on him.
Bugti, 79, led an often violent political campaign to win greater control of the wealth from gas, oil and other natural resources extracted in the region for ethnic Baluch tribespeople. The region is Pakistan's poorest.
Political and religious leaders led thousands of mourners in prayers during the service. Protesters chanted "Death to Pakistan's army!" and "Pakistan will disintegrate, Pakistan will no longer exist!" as a military helicopter hovered overhead.
Afterward, groups of young men smashed windows throughout the stadium and burned a security guard post. Smoke billowed from surrounding streets as protesters, many with faces covered by scarves, set car tires and at least 20 businesses on fire.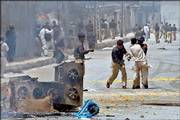 Police arrested more than 60 rioters in the southern port of Karachi, bringing the number of people detained since the violence began to almost 600. Gunshots fired at one Karachi protest wounded two teenagers, police said.
Bugti, a former provincial governor and prominent militia leader, fled into Kohlu's mountains in December after Pakistani President Gen. Pervez Musharraf survived a rocket attack during a trip to Kohlu. Some officials blamed Bugti supporters for the attack.
Chief army spokesman Maj. Gen. Shaukat Sultan said investigators don't know what caused the cave to collapse because all the potential witnesses died in the cave. "It could have been a (land) mine incident, it could have been another explosion, it could have been a fire from inside," he said.
Copyright 2018 The Associated Press. All rights reserved. This material may not be published, broadcast, rewritten or redistributed. We strive to uphold our values for every story published.