For over a decade the Southwest Bulldogs' eighth and ninth-grade volleyball teams have been no strangers to success.
The Bulldogs have won city championships in six of those seasons and are looking to make it a lucky seven this year. To top it off, both teams have won championships in the same year.
Patty Coffey enters her 12th season as coach and hopes to continue their winning ways.
"We feel like we've built a tradition here," Coffey said. "The girls really want to play hard. And they play in the offseason so they can play better during the school year."
Coffey said the eighth-grade scrimmage was as competitive as she's ever seen. And the ninth-grade team has many talented players, including Alex Mollohan and Abby Thompson.
Coffey described Mollahan as having an arm like a rocket and Thompson as the team's top setter.
"She (Thompson) is the one that makes the team go," Coffey said. "She never gets mad at anybody and she has a calming effect (on the team). She sets the ball up where the girls need to hit it."
Another player sure to help lead the Bulldogs this year is Jasmyn Turner. Coffey likes what the freshman brings to the team.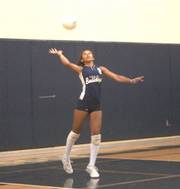 "She can play any position," Coffey said.
And being versatile on the volleyball court can be a big advantage to any team. Though Turner will see much duty in the middle and on the outside, her favorite part of volleyball is serving.
"I like to hit," Turner said.
Having played a key role in a championship as a seventh-grader, Turner understands the dedication and hard work done during practice often times makes perfect.
Turner shared a recent memory where each player had to strive for perfection while serving.
"We had to work on covering when we hit the ball," Turner said. "And we had to make 20 serves in a row. And if we didn't we had to start over."
Turner never had to start over.
It is that effort and attitude the Bulldogs will use as a benchmark for their season. They've been doing it that way for 11 years, and couldn't imagine settling for anything less.
"Our goal is to win the championship," Turner said.
Though a possible championship is months from now, the Bulldogs' first game is Thursday versus St. Thomas Aquinas and California Trail. Both are teams Coffey said would be tough match-ups. But as that first game approaches, the Bulldogs will be up for the task.
There is an adage that says championships are won in practice and on defense.
But in the Bulldogs' case, one might say championships all start with the players in the middle.
"I think our middle is really gonna make a difference for us this year," Coffey said.
Copyright 2017 The Lawrence Journal-World. All rights reserved. This material may not be published, broadcast, rewritten or redistributed. We strive to uphold our values for every story published.