Curtis Martin will miss at least the first six weeks of the season. It could be the end of the 33-year-old running back's career.
The NFL's No. 4 career rusher, who underwent knee surgery last December, was placed by the New York Jets on the regular-season physically unable to perform list on Tuesday. That means he will miss the first six weeks and the Jets will have 21 days to decide whether to activate him.
The Jets also announced that Chad Pennington is their starting quarterback. Pennington, who has undergone shoulder surgery for two straight years, had been the starting QB throughout the preseason. But first-year coach Eric Mangini had not designated a starter from among Pennington, Patrick Ramsey, Brooks Bollinger and rookie Kellen Clemens.
"It's become really clear to me he's distinguished himself in the way I was looking for," Mangini said of Pennington. "He's made great progress in the preseason, especially over the last couple weeks."
Derrick Blaylock appears to be Martin's replacement, although the Jets obtained Kevan Barlow last week from San Francisco.
Cowboys
Terrell Owens practiced for the first time in 10 days, an indication he's getting over his hamstring injury and is heading toward his debut with the Dallas Cowboys.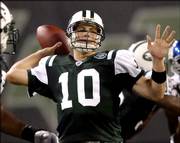 Neither Owens nor coach Bill Parcells were available for comment after a team spokesman announced that Owens participated in an afternoon workout that was closed to reporters.
Titans
Predictably, Billy Volek isn't happy about Tennessee's signing of Kerry Collins.
Collins practiced for the first time since signing a one-year deal on Monday.
A six-year veteran, Volek was given the starting job over top draft pick Vince Young after Steve McNair was traded in June. Now he's unhappy at the perception he hasn't done enough to earn the job.
Texans
Domanick Davis doesn't know when his injured left knee will be healthy enough for him to return to the field.
Houston's top rusher for the past three seasons has been out for a month with a bone bruise that is causing soreness in his knee.
Bills
J.P. Losman will start the season as the Bills quarterback after beating out Kelly Holcomb and newcomer Craig Nall.
Eagles
Fifth-round draft pick and former Olympian Jeremy Bloom went on injured reserve after he missed most of training camp with an injured hamstring.
Jaguars
Offensive tackle Mike Williams, trying to revive his career in Jacksonville, was placed on injured reserve.
Dolphins
Offensive lineman Seth McKinney was placed on injured reserve by Miami, which also waived quarterback Brock Berlin and 13 others.
Giants
QB Rob Johnson, who missed two seasons with an elbow injury, was released.
Broncos
DT Gerard Warren's dislocated left big toe was still bothering him, but he wanted to give it a test run. It passed inspection.
Copyright 2018 The Associated Press. All rights reserved. This material may not be published, broadcast, rewritten or redistributed. We strive to uphold our values for every story published.