¢ Young guns: Mangino didn't name every true freshman who's expected to skip a red-shirt, but Jake Sharp, Olaitan Oguntodu and Anthony Webb are three near-certainties.
Mangino has said previously that Sharp and Oguntodu are ready, but mentioned Webb, a cornerback, for the first time Tuesday.
"Anthony Webb has really done a fine job," Mangino said. "He has instincts that you need out of a corner : that are unusual for a true freshman. He definitely will play against Northwestern State, no question."
Offensive lineman Ian Wolfe, cornerback Phillip Strozier and wide receiver Tertavian Ingram are other possibilities to see the field right away.
¢ Allen will play: Mangino said that defensive end Rodney Allen, who injured his knee in a practice last week, would be available to play on Saturday.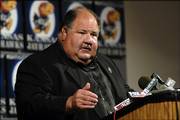 "Yes, he will," Mangino said. "Exhale."
Mangino, for the second straight day, declined to comment on standout cornerback Aqib Talib, who sources say was suspended for Saturday's game for disciplinary reasons.
¢ Jitters?: Northwestern State, a Division I-AA program, is playing three I-A teams this year with a young squad - just seven seniors, and up to 22 true or red-shirt freshman are expected to contribute.
Coach Scott Stoker is excessively humble about Saturday's game, considering what he's got and what he's up against.
Hear Mark: Aug. 29 press conference
"I just hope we come out of the tunnel," Stoker quipped. "That's our major goal."
The NSU-KU game is a one-time deal, and the Demons are getting $275,000 for traveling to Lawrence.
¢ Secondary woes: With Talib's suspension and an injury to free safety Darrell Stuckey, Mangino said Tuesday he's still not sure who will start in the secondary on Saturday.
Strong safety Jerome Kemp, who's recovering from a leg injury, is expected to be ready. Considering that, a good guess would be Kemp at strong safety, either Justin Thornton or Sadiq Muhammed at free safety, Blake Bueltel at one corner and Raymond Brown at the other. True freshmen Oguntodu, Webb and Strozier could serve as backups.
¢ Still no depth chart: KU's depth chart is continually changing, one reason why they're one of the few Big 12 teams not to release one publicly yet.
Injuries and freshman competition has jumbled up the two-deep even this close to the season-opener. Mangino said he hoped to have one finalized by Thursday, but there's no exact time on when it could be released to the public.
¢ Return specialists: Mangino said that Brian Murph, Talib and Jonathan Lamb were working as punt-return specialists, while Sharp and Marcus Herford are expected to return kickoffs.
For Herford, it's a nice pasttime to go with his duties as a wide receiver.
"It's going well. I'm loving it," Herford said. "It's fun, something I've been wanting to do for a while. I'm glad they gave me an opportunity to do it."
¢ New scholarships: Mangino announced at the beginning of Tuesday's press conference that wide receiver Jeff Foster and defensive lineman John Larson have been awarded scholarships for the 2006-07 school year.
Mangino said that 14 walk-ons have now earned scholarships since he became coach in 2002.
Copyright 2018 The Lawrence Journal-World. All rights reserved. This material may not be published, broadcast, rewritten or redistributed. We strive to uphold our values for every story published.