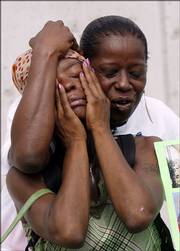 It was a day of remembrance, sorrow and renewal Tuesday for residents of New Orleans and other Gulf Coast cities as they marked the first anniversary of Hurricane Katrina.
Bells tolled throughout New Orleans at 9:38 a.m., the precise minute a year earlier that raging flood waters began rupturing the city's levee system, unleashing a catastrophic deluge.
New Orleans' population of about 460,000 has been halved by the destruction, which forced residents from their homes and workplaces.
In photo at left, Champernell Washington, left, is comforted by Donna Banks as Washington grieves for a relative who died in Katrina's aftermath. The two on Tuesday visited the levee wall in New Orleans' Lower Ninth Ward, one of the cities' hardest-hit neighborhoods.
Copyright 2018 The Lawrence Journal-World. All rights reserved. This material may not be published, broadcast, rewritten or redistributed. We strive to uphold our values for every story published.