A.B. Rials is singing just loudly enough to be heard over the crackling of the grill.
He walks to his fridge, in step to the song in his head, to pull out more ingredients.
It doesn't take much light smoke from the grill - the kind that leaves you smelling like crepes for a while - to fill this place.
It doesn't take too many people to fill it, either. Maybe a dozen people can fit inside.
Rials is serving a young couple at his shop: A.B.'s Coffee and Crepes, 17 W. Ninth St.
"Are you folks doing OK?" he asks several times, looking them squarely in the eye.
Later, he says, "I'm always asking how people are. I'm not asking for the heck of it. I really want to know."
Perhaps that's because, after working years in hidden-from-view kitchens at places like Village Inn, Country Kitchen and Perkins, Rials finally has a place of his own, and customers of his own.
His shop has been open 17 months, but its hours were limited until recently. Now, in addition to being open for breakfast and lunch on Saturday and Sunday, he operates the restaurant on Tuesday, Wednesday and Thursday from noon to 1:30.
He's got plans to soon expand to breakfast and lunch seven days a week.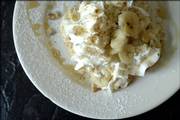 "It's like what I visualized for a long time," he says.
'Enjoys himself'
Rials used to make crepes at the breakfast places he worked, but he never considered it much of an art.
A 1975 graduate of Lawrence High School and one of 13 children, Rials got his start at Lawrence's Country Kitchen and later worked in similar restaurants in Oregon and Florida.
Eventually, he says, he "got burned out on the Country Kitchen scene" and returned to Lawrence in 1989. He worked several catering jobs, eventually opening Riverfront Catering in the now-defunct Riverfront Plaza Factory Outlet Mall.
He still has the catering business, which serves two meals a day to Phi Kappa Tau fraternity at Kansas University and provides meals for other occasions.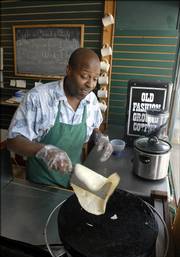 Rials, 50, says the idea for the crepe shop came from Mike Elwell, a Lawrence businessman who enjoys going to a crepe shop when he vacations in the Colorado mountains.
"It was something completely different," Rials says.
It's a formula that's gradually picking up steam.
Kit Fluker and Paul Santos are two of the shop's regular customers.
"We keep coming back," Fluker says. "It's delicious. It's nice to have the variety."
And she likes the atmosphere.
"He clearly enjoys himself," she says of Rials.
Santos says the restaurant's limited hours always gave it a sense of mystery.
"I'm glad I finally figured out what it was," he says. "It's a different experience, seeing the guy making your food somewhere. You have more contact that way."
'Want to cook'
Making a crepe, Rials says, isn't difficult.
The batter is similar to that of a pancake. It contains flour, eggs, milk, salt and oil.
The menu at A.B.'s includes lunch crepes such as the Florentine, which contains artichokes, feta cheese, olives and spinach, and you can add chicken or eggs.
There's also breakfast crepes, with egg, cheese and meats. And then there's Rials' favorite to make: the dessert crepes, most of which have fresh fruit and are topped with whipped cream.
"I just want to cook," he says. "And I love this type of interacting. With the customers right there, you can see everything. It's a lot easier. You can look at someone and know if they need something."
Rials says he runs into plenty of customers who don't even know what a crepe is. But he's hoping it's a trend that catches on.
"They come in here for the crepes, even if it's from curiosity," he says. "I hope it catches on. I'd like to have these all across the country."
Crepes with caramel sauce and toasted pecans
Crepes
2 1/2 cups whole milk
5 large eggs
1 cup all purpose flour
6 tablespoons (3/4 stick) unsalted butter, melted, cooled slightly
2 tablespoons sugar
3/4 teaspoon salt
Additional melted butter (for frying)
Combine first 6 ingredients in blender and blend until smooth. Let stand 1 hour at room temperature. Blend again before using.
Brush 8- to 9-inch-diameter nonstick skillet lightly with melted butter. Heat over medium-high heat. Pour scant 1/4 cupful batter into skillet, tilting to allow batter to coat bottom of skillet. Cook until crepe is golden on bottom, about 1 minute. Turn crepe over and cook until brown on bottom, about 45 seconds. Transfer to paper towel. Repeat with remaining batter, making about 24 crepes and stacking crepes between paper towels. Cool.
Sauce
3 cups cajeta
3/4 cup whole milk
3 tablespoons unsalted butter
3 tablespoons Cognac or brandy
2 cups pecans, toasted, chopped
Combine cajeta, milk, and butter in heavy medium saucepan. Bring to boil. Reduce heat to medium and simmer until sauce is reduced to 2 3/4 cups, about 5 minutes. Remove from heat. Stir in Cognac.
Place 1 crepe on work surface. Spread with 1 tablespoon sauce. Sprinkle with 1 tablespoon chopped pecans. Fold crepe in half over filling, then in half again, forming triangle. Repeat with remaining crepes, sauce, and pecans. Arrange crepes in two 13x9x2-inch glass baking dishes. (Can be prepared 1 day ahead. Cover and chill crepes and remaining sauce separately. Rewarm sauce just until pourable before continuing.)
Preheat oven to 350 degrees. Pour remaining sauce over crepes. Bake until heated through, about 15 minutes. Sprinkle with any remaining pecans and serve.
Source: www.epicurious.com
Blueberry-mascarpone crepes
8 ounces mascarpone cheese
4 ounces cream cheese, softened
3 tablespoons sugar
2 large egg yolks
1 1/2 teaspoons finely grated orange zest
1 teaspoon fresh orange juice
1 teaspoon Grand Marnier liqueur
Pinch salt
12 crepes, recipe follows
1 pint blueberries
Blueberry sauce, recipe follows
Confectioners' sugar, garnish
Preheat the oven to 325 degrees. Lightly grease a large glass baking dish.
In a medium bowl, beat together the mascarpone, cream cheese, sugar, egg yolks, zest, juice, Grand Marnier, and salt until smooth.
Place the crepes flat on a work surface. One at a time, spoon 2 tablespoons of the filling down the center, and top with a few fresh blueberries. Roll the sides of the crepe up and over the filling and place in the baking dish, seam side down. Bake until the filling is warmed through and slightly puffed, 10 minutes. Spoon the sauce over the crepes and return to the oven and hot, 2 to 4 minutes.
Remove and arrange 3 crepes on each of 4 dessert plates. Dust with confectioners' sugar and serve immediately.
Blueberry Sauce:
1 1/2 cups sugar
1 1/2 cups water
1/2 cup fresh-squeezed orange juice
2 tablespoons cornstarch
2 tablespoons Grand Marnier liqueur
1 1/2 teaspoons finely grated orange zest
1 3/4 cups blueberries, picked over and rinsed
1 1/2 tablespoons unsalted butter
In a small saucepan combine the sugar, water, orange juice, cornstarch, Grand Marnier, and orange zest, and stir well. Cook over medium-high heat, stirring occasionally, until thickened, about 5 minutes. Stir in 1 1/2 cups of the blueberries and simmer the mixture, stirring occasionally, until the berries burst and the sauce thickens, about 5 minutes. Add the butter and remaining 1/4 cup of blueberries and stir until the butter is melted and the berries are warmed through, 1 minute. Remove from heat and cover to keep warm until ready to use.
Yield: 3 cups
Crepes:
3/4 cup all-purpose flour
3 large eggs, beaten
3/4 cup plus 3 tablespoons whole milk
1 tablespoon sugar
Pinch salt
6 teaspoons melted unsalted butter
Whisk together the flour, eggs, milk, sugar, salt, and 4 1/2 teaspoons of the butter to form a smooth, thin batter. Refrigerate for at least 1 hour before proceeding.
Heat a heavy 6-inch skillet or crepe pan over medium-high heat. When hot, brush with a light coating of the remaining butter. Ladle about 1/4 cup of crepe batter into the pan, tilting the skillet to evenly coat the pan with batter. Cook until golden brown on the bottom and the top begins to look dry, 1 to 2 minutes. Using a spatula, carefully turn the crepe and cook on the second side just until the bottom colors slightly, about 30 seconds. Transfer to a plate and cover loosely to keep warm. Repeat with remaining batter.
Assemble as directed in Blueberry-Mascarpone Crepes recipe, and serve. (Or, make ahead and when cool, layer between sheets of waxed paper and wrap tightly in plastic wrap. Refrigerate until ready to use, up to 3 days.)
Yield: 12 (6-inch) crepes
Source: www.foodnetwork.com
Asparagus ham crepes
1/2 cup milk
1 egg
1 tablespoon vegetable oil
1/4 cup all-purpose flour
1/2 teaspoon baking powder
1/4 teaspoon salt
24 fresh asparagus spears, trimmed
8 thin slices deli ham
8 slices Swiss cheese
Mushroom Cheese Sauce
3 tablespoons butter
3 tablespoons all-purpose flour
1 teaspoon chicken bouillon granules
1 cup water
1/4 cup shredded cheddar cheese
1/3 cup half-and-half cream
1 can (4 ounces) mushroom stems and pieces, drained
1 tablespoon minced chives
In a blender, combine the first six ingredients; cover and process until smooth. Refrigerate for 1 hour.
Heat a lightly greased 8-inch nonstick skillet; pour 2 tablespoons batter into center of skillet. Lift and tilt pan to evenly coat bottom. Cook until top appears dry; turn and cook 15-20 seconds longer. Remove to a wire rack. Repeat with remaining batter, greasing skillet as needed. When cool, stack crepes with waxed paper or paper towels in between.
In a large skillet, bring 1/2 inch of water to a boil. Add asparagus; cover and cook for 3 minutes. Drain and immediately place asparagus in ice water; drain and pat dry.
On each crepe, layer a ham slice, Swiss cheese slice and three asparagus spears. Roll up and place in a greased 11 x 7 x 2-inch baking dish.
In a saucepan, melt butter. Stir in flour and bouillon. Gradually stir in water. Bring to a boil over medium heat; cook and stir for 2 minutes or until thickened. Reduce heat; stir in cheddar cheese until melted. Stir in the cream, mushrooms and chives. Pour over crepes. Bake, uncovered, at 350 degrees for 20-25 minutes or until heated through.
Source: www.rd.com
Copyright 2018 The Lawrence Journal-World. All rights reserved. This material may not be published, broadcast, rewritten or redistributed. We strive to uphold our values for every story published.