When someone stole a Veterans Administration employee's laptop computer - hardware containing sensitive personal identification data from 26.5 million vets - the phones in Bennett Griffin's office above Massachusetts Street started lighting up.
They haven't stopped since.
Sales of Griffin Technologies LLC's computer-security devices continue to rise, just as they have every month since the May 3 theft that threatened financial security for millions of veterans and their families.
The VA computer has since been recovered, but the awareness and fear spawned by the potential loss of data privacy - the stolen equipment included names, birthdates and Social Security numbers for vets and active-duty military personnel - spurred a rush of security upgrades that has yet to let up.
"We've been talking about it for a while, but this case affected almost 10 percent of the population of the United States," said Griffin, whose first SecuriKey product launched in 2002. "It wasn't the first laptop to be stolen, but it was the one that really seemed to awaken people to the problem. And it's been busier here since then.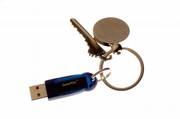 "We're operating in a different gear. : We're selling into markets that we've never sold into before."
Each SecuriKey device is small enough to be attached to a keychain, and controls access to an assigned computer. Before anyone can open a single file, the user first must plug the SecuriKey device into the computer's USB port - "like an ignition key," Griffin said - and type in an assigned password.
Without both components, the computer essentially is useless.
"It's two-factor identification: something you have and something you know," Griffin said. "With both of those you can get in, and without one, you can't."
With reports of stolen or lost laptops continuing to surface, Griffin said, sales of the SecuriKey computer access keys show no signs of letting up. The company even dropped a full business unit - an operation that had created tools for programmers interested in computer security - to focus solely on SecuriKey, popular among individuals, companies and governments here and abroad.
Griffin Technologies has five employees, taking orders and accepting increasing shipment from contract factories in China and Germany. Employees in Lawrence assemble kits for all three SecuriKey products:
¢ Professional: For use by a single user.
¢ Professional Multi-User: For use by two or more users - the kit includes a device for each individual computer, plus a master device for an IT manager - this line is the company's most popular since being introduced in May.
¢ Enterprise: For a minimum of 10 users, Enterprise has devices that work on all components of a network, including laptops, desktop computers and servers.
Copyright 2018 The Lawrence Journal-World. All rights reserved. This material may not be published, broadcast, rewritten or redistributed. We strive to uphold our values for every story published.