One way to save time and money on your next indoor painting project is to choose a product that can cover in a single coat. While this kind of hiding power is not typical, several of the interior paints we recently rated did a good job overall with a single coat.
Among them was our top-rated low-luster paint, Behr Premium Plus Satin Enamel ($24 a gallon, from Home Depot). It and paints from Kilz - the low-luster Casual Colors Satin, $19, and the flat-finish Casual Colors, $18, both from Wal-Mart - were one-coat winners, particularly when used in darker colors. All three combined laudable performance with relatively low price to earn distinction as CR Best Buys.
Focus on finish
There were other CR Best Buys scattered throughout our ratings of paints in flat, low-luster and semigloss finishes. Your choice of finish - that is, the paint's sheen - depends partly on what you intend to cover.
Flat paints are good bets for low-traffic areas, and for painting over cracked plaster or visible drywall taping.
Low-luster paints, which have a bit more sheen than flat finishes, are ideal where durability is a concern because they resist wear better.
Glossy paints are best for doors, baseboards and other trim because they permit easy cleanup of scuffs and stains. Yet glossy paints are more likely than lower-sheen products to show imperfections in the surfaces they cover, and some can remain sticky long after they are fully dry.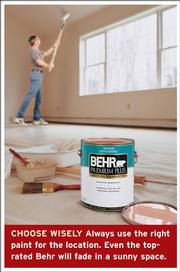 Here, from our ratings, are standout paints for the following situations:
¢ Walls that take a beating. In addition to our top-rated Behr and Kilz low-luster paints, we like the low-luster versions of True Value E-Z Kare ($23 a gallon) and Dutch Boy Home ($15, from Wal-Mart) - both CR Best Buys. These four paints scored highest in tests measuring resistance to staining and scrubbing.
¢ Flawed walls. Joining Kilz Casual Colors flat paint for this use are two more CR Best Buys: flat versions of Behr Premium Plus Enamel ($22, from Home Depot) and Dutch Boy Home ($14, from Wal-Mart). The Behr left a slightly irregular surface that might hide minor imperfections, while the Kilz and Dutch Boy are less likely to leave roller marks.
¢ Trim, doors and shelves. The semigloss version of Behr Premium Plus Enamel ($25, from Home Depot) topped its ratings category and excelled at sticking resistance. Dutch Boy Home semigloss scored lower overall and was more prone to sticking than Behr, but at $16 a gallon (from Wal-Mart) it was the least expensive semigloss we tested. Both are CR Best Buys.
Sunny dispositions
While each of these products has its strengths, all are plagued by fading when exposed to lots of sunlight. Some paints from our tests that held up well in the light of day - and performed commendably overall - include the flat-finish Valspar American Tradition Enamel ($22, from Lowe's), the low-luster Valspar American Tradition Satin ($24, from Lowe's) and the semigloss Dunn-Edwards Permasheen ($40).
If you're painting a sunny space, consider a fade-resistant paint and colors without blue or yellow tones, which are notorious for fading.
Copyright 2018 The Lawrence Journal-World. All rights reserved. This material may not be published, broadcast, rewritten or redistributed. We strive to uphold our values for every story published.