Atlanta — All the signs say an era is ending in Atlanta.
The Braves are all but mathematically eliminated from winning the NL East, ending the team's streak of 14 straight division titles.
They are five games behind Cincinnati in the wild-card race. Greg Maddux and Tom Glavine are pitching for other playoff-contending teams. Leo Mazzone now guides the Baltimore pitching staff.
Chipper Jones sees all this and yet he insists the era is not over in Atlanta. That's because he still sees Bobby Cox managing the Braves.
"I've been in the organization for 17 years and he's been here for all of them," Jones said. "I've only known one thing: Having him here. To not have him here would be a clear-cut sign that the era is over."
Cox's reign in Atlanta continues, but for the first time in almost a quarter of a century, he is closing in on finishing below .500 for a season in which he has managed from start to finish.
The last team Cox assembled in spring training and managed all season to a losing record was the 1982 Toronto Blue Jays. In his debut in Toronto, Cox's Blue Jays were 78-84. He then posted three straight winning seasons, taking the Blue Jays to the 1985 ALCS.
Even the 1982 losing season carries an asterisk, because the Braves team he helped build in his first term as Atlanta's manager from 1978-81 won the 1982 NL West title. Joe Torre managed that 1982 team, but it bore Cox's mark.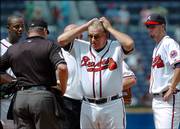 Cox returned to Atlanta as general manager following the 1985 season, adding the title of field manager in June of 1990. He remained in the dugout when John Schuerholz was named general manager later that year.
The '90 Braves finished last, but with Cox in charge from the start the following year, the team began its unprecedented run of 14 division titles, excluding the strike-shortened 1994 season.
Going back to his time with the Blue Jays, Cox has won 15 straight division championships with teams he has managed from the outset. Including the 1994 Braves, he has a streak of 18 straight winning seasons.
That run is in jeopardy. The Braves, who were off Monday, are seven games under .500 with five weeks left in the season.
If Cox, 65, has been shaken by this season's fall below .500, it doesn't show.
With rare exception, Cox has remained upbeat after every blown save and every disappointing start even as his pitchers rank 10th in the NL with a 4.64 ERA.
"A guy can go out there and not get one single guy out," Jones said, "and (Cox) will come in and say 'He was hitting his spots. He just had a couple sneak through. He was a little unlucky.' This that and the other. I've always sat back at the house and got a chuckle out of it."
Copyright 2018 The Associated Press. All rights reserved. This material may not be published, broadcast, rewritten or redistributed. We strive to uphold our values for every story published.