Imagine explaining how far away America is to kids who can count on one hand how many times they've seen a car, used running water or traveled more than a few miles away from their village. That was part of my experience this past summer as I joined a group of Hunan University freshmen on a volunteer teaching trip in China's Xiangxi Autonomous District.
Life in these remote mountains is so different from the life I've grown used to in Lawrence, that something as simple as a self-introduction had thrown me for a loop. These people are not just poor in ordinary terms. Some homes only have a wooden frame for walls because building materials are nearly impossible to haul up the mountain.
Residents of this autonomous district are of Tujia and Miao ancestries rather than of China's Han majority. Their relationship with the central government is not unlike that between the U.S. government and Native Americans. Education beyond elementary school in this area is dismal. Families cannot afford tuition and fees, not to mention the closest junior high and high schools are anything but close. Guess how much it takes to pay for one year's tuition, books, and food? Seventeen dollars. After students graduate from Peimin Elementary, the only school in the area, most drop out to work. Thus these people continue in a vicious cycle of little education because of poverty, poverty because of little education.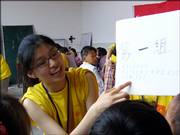 That's where we come in. Our service project's name, translated into English, is "Love in Xiangxi, Big Hands Hold Little Hands." (It sounded better in Chinese, I promise.) The objective was to encourage these children to dream of and work toward a life with perhaps more than just a few acres of rice fields.
Named after the vice governor who raised large funds and donations for the school, Peimin Elementary is a two-story brick building with classrooms and dormitories that look out into a central courtyard. It stands as a stark contrast to the squatting huts scattered close by. Our group finally arrived after a day and night of traveling by train, bus and finally truck, but the sight of excited children flocking toward us made it all worthwhile.
Our activities began after the donations were distributed (with plenty of oohs and aahs). We had English lessons lined up, followed by a quiz bowl and a charades party. To give them more individual attention and to boost spirit and competition, we split up the students into six squads each led by two or three of us "tutors." I tried to recall my foreign language teachers' techniques, making up some of my own along the way. They easily learned the alphabet, counting to 10, and common greetings and pleasantries in an hour, no joke. When I quizzed them later, they still remembered everything. These kids have amazing brains like sponges, but the candy that I brought as incentive probably didn't hurt, either.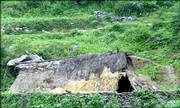 Amid the bustle I found time to hold as many conversations as possible. What struck me about these children is that they don't mope or complain about their tough life. They're happy to have a chance at quality education, and they're definitely taking advantage of it. One third-grader, Wu Qingying, gave me math problems that put the algebra class I took in seventh grade to shame. I also learned things about China that I'd never heard of before, like the monthlong military basic training required of all college freshmen. Speaking to the Hunan University foreign language majors in Chinese, English, and Japanese was a blast, but things really got interesting when each of us were given about 5 gallons of water for a ... bath? Desperate enough to give it a try, I managed to soap up, shampoo and rinse off the bubbles with my water ration. It actually wasn't as hard as I had imagined, and afterward I found out that we had received the best there was to give. Peimin's principal had tended the kitchen fire for four hours so that we wouldn't have to use the icy well water like the area residents.
Unexpected kindness
The next day we set out to visit homes in the area, some worth as little as $25. When I stooped into one hut, I looked around and gaped. Six people live in this 4-by-10 space? Well, I had a special delivery to brighten their day. While waiting for our flight in the Shanghai airport (it seems that delays are an inherent trait of airlines all over the world), I began chatting with an American businessman about my summer plans. As soon as he heard about this teaching trip, he dug out all the cash he had in his pockets and asked me to relay his regards. It just goes to show how much kindness can be floating around in the most unexpected places. I added my shopping money for China to Mr. Dunne's donation, and a little boy now has the rest of his elementary school years paid for.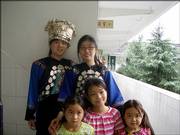 All too soon, it was time to go. I had lived a side of life that I could previously only imagine, only made possible thanks to my parents, who transported me from Lawrence to Xiangxi, and Mr. Tang, the supervisor for our group of 13 volunteers. When I think back on this summer, I will never forget the kind people like Mr. Dunne from the airport or the college kids who readily welcomed me into their group. Most of all, though, I will always remember the children of Xiangxi. Life has doled out to us circumstances that are so radically different, for no reason at all except that's what life does. I arrived with high hopes of sharing stories of America with them and influencing their future decisions regarding education. They took what I had to offer but gave back to me so much more: the spirit with which they take on each new day. As Peimin Elementary School melted into the mountainside I made a promise. Someday I'll be back.
Copyright 2018 The Lawrence Journal-World. All rights reserved. This material may not be published, broadcast, rewritten or redistributed. We strive to uphold our values for every story published.