O'Fallon, Mo. — In the heart of old O'Fallon, Sister Josepha Bauer demonstrates her lifetime of service to God with a spool of shimmering gold thread and the bobbing needle of an ancient Singer sewing machine.
It's lunchtime, and she is alone with her Christmas tapestry in an ecclesiastical arts room in the Sisters of the Most Precious Blood's enormous motherhouse - a cavernous complex of century-old brick buildings that has housed thousands of nuns who've devoted their lives to service, prayer and sacrifice.
But the congregational leader, Sister Mary Whited, said the 161-year-old Roman Catholic order can no longer live in the past nor ignore its future. In what she called a monumental step for its aging membership, her order is seeking to redevelop its 42-acre campus just north of City Hall.
"We've been looking at the potential of this property for at least two years," Whited said. "We've done a lot of study as to how to particularly care for our elderly residents and use the property for the future."
Redevelopment plans
The order has so far partnered with the St. Louis Equity Fund and the Community Program Development Corp., based in St. Louis. Together the partnership has put out a request for proposals from developers to create a master plan for the property that would highlight historic preservation and could include senior housing with assisted living and nursing care as well as retail space, offices and apartments.
The Equity Fund, led by John Wuest, is looking for investors in the project.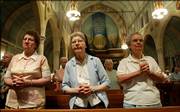 The Community Program Development Corp., led by Joseph Cavato, plans to use historic tax credits to lure investors to the campus, which has 12 main buildings, many dating before 1900, and 27 acres of open land. The property, which fronts Main Street, is just a short drive north from Interstate 70.
Whited said the timing for change was right.
The order settled in O'Fallon in 1875 after fleeing persecution in Switzerland and Germany.
At its peak in the 1950s, the order had more than 600 members who devoted themselves to education, local causes and mission work in countries throughout the world. The order continues to sponsor local educational and religious institutions and has missionary work in countries as far-flung as Finland and Bolivia.
But its membership has dwindled to just over 200, with about half living in quarters in the O'Fallon motherhouse. The median age of members is now 75, with several around 100. Whited said the space has simply outgrown the sisters. The decrease in membership follows an international trend, she said.
"When I joined the congregation, the way to minister in the church was to become a sister," Whited explained, noting that many Catholic teaching and charitable posts were not open to lay people.
"Today there are more opportunities for women. They can minister in other ways."
Cavato said he learned about the project through Wuest, whose sister-in-law, Sister John Antonio Miller, directs the order's St. Elizabeth Adult Day Care Center in St. Louis. He said he and other investors, who have not ventured into St. Charles County, were immediately struck by the architecture and the meticulous upkeep of the property.
"If you had told me a year ago we'd be leading a historical rehab in O'Fallon, we wouldn't have known where to start. It has a lot of potential," he said.
Copyright 2018 The Lawrence Journal-World. All rights reserved. This material may not be published, broadcast, rewritten or redistributed. We strive to uphold our values for every story published.