Cincinatti — Carson Palmer aced the test.
With a brace protecting his rebuilt knee, the Cincinnati Bengals quarterback took the hits, avoided the rush and threw three touchdown passes Monday night in his first game back from the injury.
By halftime of the 48-17 preseason victory over the Green Bay Packers, Palmer convincingly had made his case that he'll be ready for the season opener.
"He hasn't lost a thing," right tackle Willie Anderson said. "He's our leader, and he's back. That's got to make any Bengals fan feel real happy."
Showing no hesitation to take a tackle or take off on a scramble, Palmer completed nine of 14 passes for 140 yards and three touchdowns. It felt like old times at jubilant Paul Brown Stadium when he pointed his right index finger to the sky after his second touchdown.
"I can't say I felt real emotional," Palmer said. "It just felt like a business day, a chance to get some work in."
Unless his knee swells in the next few days, Palmer will be on schedule to start in Kansas City on Sept. 10, his goal during a grueling comeback that had overshadowed the franchise since its playoff loss to Pittsburgh on Jan. 8.
"He dropped back, he rolled out, he got hit a few times, he had a chance to run the ball," coach Marvin Lewis said. "He looked very good, very sharp. It's still just preseason, but it's encouraging."
Palmer's return was the cornerstone of a buoyant night for the Bengals, who are 3-0 in the preseason for the first time since 1976 and have clinched their first winning preseason since 1988.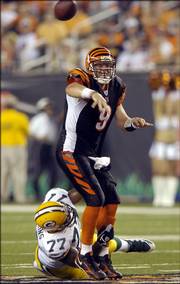 By contrast, a long-awaited Packers return quickly became a miserable night.
Running back Ahman Green played in his first game since he tore a tendon in his thigh midway through last season. Green carried eight times for only 18 yards in the first half, unable to find much room behind a line featuring two rookie guards. His longest run was eight yards.
Mostly, it was another humbling visit for Brett Favre, who gets more reason to hate the place every time he returns.
Last season, Favre threw five interceptions - his career high in the regular season - and had the ball snatched from his hand by a fan who ran onto the field in the closing minutes of a 21-14 loss in Cincinnati.
This time, he had the ball fly out of his hand during a pass attempt on the opening series, a fumble that Dexter Jackson returned 29 yards for a touchdown. He was intercepted on the next series, and tripped and fell while dropping to pass in the second quarter.
Favre played into the third quarter, going 12-of-25 for 162 yards with three sacks and a touchdown for the Packers (1-2).
Palmer's long-awaited return was high drama for the crowd of 65,614 that waved signs and sported No. 9 jerseys in support.
The Bengals offense was introduced as a unit. Palmer followed Anderson and center Rich Braham onto the field, entering through the same tunnel where he left on a cart following his knee injury Jan. 8.
Palmer's first completion went to Chris Henry, who made a 66-yard reception on Palmer's lone pass in that playoff loss to Pittsburgh. Kimo von Oelhoffen's shoulder slammed into the side of Palmer's left knee after he released that playoff pass, shredding ligaments and dislocating his knee cap.
When Palmer let go of the ball this time, he got tackled for the first time since the injury. Green Bay's Kabeer Gbaja-Biamila hit him around the waist and took him down, a tame but telling tackle.
Palmer popped right up.
"It felt good to get hit and to know my knee could withstand the contact," Palmer said.
Copyright 2018 The Associated Press. All rights reserved. This material may not be published, broadcast, rewritten or redistributed. We strive to uphold our values for every story published.