Beirut, Lebanon — U.N. Secretary-General Kofi Annan faulted both Israel and Hezbollah on Monday for not living up to key sections of the cease-fire resolution, while two more countries took steps to provide troops for an expanded peacekeeping force to secure the truce.
Germany, meanwhile, hinted it was negotiating a prisoner swap.
Sitting beside Lebanese Prime Minister Fuad Saniora, Annan demanded Hezbollah return two captured Israeli soldiers, whose July 12 abduction touched off the 34-day war, and said Israel must lift its air and sea blockade of Lebanon.
Although Annan was critical of both sides, he also said the agreement provided a chance for a long-term peace. As the cease-fire held for the 15th day, neither side looked like it wanted to resume large-scale hostilities.
Annan cautioned the road ahead would be long, but pledged the international community's support. As part of that support, Italy and Turkey moved to join the U.N. peacekeeping force in southern Lebanon.
Annan also said the U.N. force, which is to grow to 15,000 soldiers, will not try to disarm Hezbollah guerrillas.
"Down the line ... there will have to be disarmament, but it's up to the Lebanese government and people to resolve themselves," Annan said. "The (peacekeepers) are not going to go house to house searching for weapons. This is not their responsibility."
Annan was booed by residents as he toured the devastated Dahiyeh neighborhood in the Hezbollah stronghold of south Beirut. He was greeted by giant posters with photographs of Hezbollah chief Hassan Nasrallah and one that had a caricature of U.S. Secretary of State Condoleezza Rice with vampire's teeth and blood dripping from the mouth.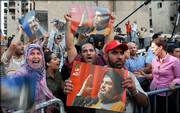 The U.N. chief, accompanied by Saniora and a Hezbollah legislator, walked for about 50 yards before the protest became noisy and unfriendly. Annan got back into a car, which drove slowly through the assembled residents with security men running alongside.
Geir Pedersen, Annan's personal representative, was pushed into another car in the motorcade by a bodyguard after some in the crowd mistook him for Jeffrey Feltman, the U.S. ambassador to Lebanon.
Earlier, Annan issued an unexpectedly blunt assessment of the cease-fire and its implementation by Israel and Hezbollah.
"It's a fixed menu. ... It's not an a la carte menu where you choose and pick," he said at the end of the first day of his 11-day Mideast swing that will include stops in Iran and Syria, the main backers of Hezbollah.
It was not known what Annan would discuss with the leaders of Syria and Iran, but it would be extremely difficult for Lebanon to disarm the Shiite guerrillas of Hezbollah without the agreement and participation of those two governments.
Israel responded quickly and negatively to Annan's call for an end to its blockade, which is intended to keep arms from being shipped to Hezbollah.
An official in the office of Prime Minister Ehud Olmert reiterated that the blockade would remain until the international force took up positions along Lebanon's borders and entry points. He said Hezbollah continued to try to smuggle weapons into the country.
Annan said he planned to discuss the issue with Israeli leaders when visiting Jerusalem today.
Copyright 2018 The Associated Press. All rights reserved. This material may not be published, broadcast, rewritten or redistributed. We strive to uphold our values for every story published.